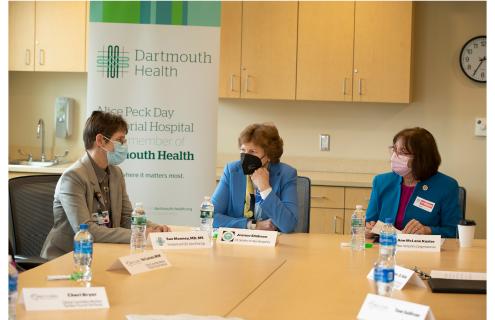 A Letter of intent has been signed between Alice Peck Day Memorial Hospital (APDMH) and a new non-profit, Families Flourish Northeast (FFNE), with the aim of establishing a residential treatment center for women in recovery from substance use disorder and their children.
The agreement furthers APDMH's strategic goal to positively impact the social determinants of health. It also furthers their mission to improve the health and wellbeing of the community. FFNE's mission is to fill a critical gap by providing trauma-informed residential substance use disorder treatment for pregnant and parenting women in a warm, safe, and supportive community.
According to the Letter-of-Intent, APDMH has agreed to lease its Homestead Building so that FFNE can operate a residential treatment center for pregnant and parenting women. APDMH will enter into the long-term lease once permitting, fundraising, and licensure requirements are met. The Homestead will be renovated by FFNE through funds raised independently of APDMH.
The Homestead, which was APDMH's original cottage hospital, was selected because of its proximity to the Dartmouth-Hitchcock Moms in Recovery program, public transportation, and APDMH's clinical services. Prior to this public announcement, APDMH invited neighbors to two virtual meetings to learn more about this initiative.
"I am pleased our board and senior team support this effort to help a very vulnerable population, and look forward to celebrating with our state's political leaders," said Sue Mooney, President & CEO of APDMH. "As we celebrate APD's 90th anniversary, it is fitting and appropriate that we will be able to return the Homestead in way that honors its past use."
To commemorate this initiative, U.S. Senator Jeanne Shaheen and New Hampshire Congresswoman Ann McLane Kuster visited APDMH on April 14, 2022 for a closed reception and roundtable discussion with invited guests. Rep. Kuster secured $500,000 in funding for FFNE under the Community Project Funding Request process for the 117th Congress, which was included in the bipartisan omnibus spending package for 10 Community Projects in New Hampshire's Second Congressional District.
FFNE was founded in 2020 by a team of psychiatrists and behavioral health providers, women's health clinicians, and Upper Valley community members. FFNE's vision is to support lifelong health, healing, and recovery for women, children, families, and communities by interrupting the intergenerational cycle of addiction. 
About Alice Peck Day Memorial Hospital (APD)
Known for highly personalized and high-quality care, APD is the community hospital of the Upper Valley of Vermont and New Hampshire. Founded in 1932 and a member of Dartmouth Health since 2016, APD's areas of clinical excellence include surgical services, primary care, geriatric care, sleep health, orthopaedics, and emergency services. The APD campus is also home to a senior living community with assisted and independent living facilities. Follow us on Facebook, Instagram, LinkedIn, Twitter, and YouTube.