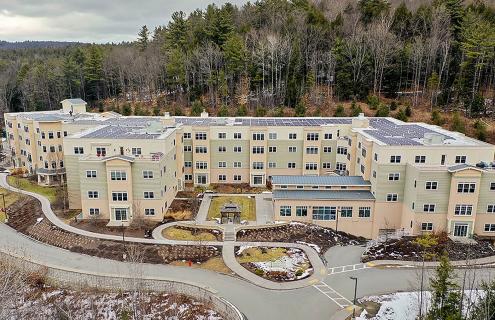 Due to the generosity of an anonymous donor, Alice Peck Day (APD) Lifecare has installed a 179kW rooftop solar system at The Woodlands independent living community in Lebanon. The system is anticipated to go live this month and a celebration will be held in the near future.
"We're overjoyed by what this generous donor has made possible. This solar array will contribute to our electricity usage with power from the sun for years into the future," said Cindy Jerome, executive director of APD Lifecare, the parent organization for The Woodlands. "We expect to save about $25,000 a year on our electricity costs and our residents really enjoy knowing we are using renewable energy. It just feels great to be green; that's a real passion for many of our residents." she added.
The grid-tied system was installed by ReVision Energy, an employee owned, certified B Corp with locations in Maine, New Hampshire, and Massachusetts.
"Although our region is known as 'northern New England', it's worth noting that we are actually at the same latitude as  sunny places like the French Riviera," said Phil Coupe, co-founder of ReVision Energy. "In fact, a solar array in Lebanon, New Hampshire, will generate roughly the same amount of electricity each year as an array in Houston, Texas. This means that APD Lifecare will derive a strong economic and environmental return on its solar investment by reducing utility costs and eliminating 110 tons of carbon pollution each year," he added.
The solar array at The Woodlands:
Is comprised of 511 photovoltaic panels with a maximum output of 350 watts per panel. They come with a 25-year warranty and an expected useful lifespan of 40+ years.
Is expected to generate more than 205,000 kilowatt hours of clean, renewable electricity per year for the next 40+ years while offsetting more than 220,000 lbs. of carbon pollution from regional fossil fuel power plants each year. This is equivalent to eliminating the carbon pollution from burning 159,700 pounds of coal or 14,200 gallons of gasoline each year for the next four decades.
Will offset the equivalent of 360,000 miles driven in a combustion engine car, and will sequester the same amount of carbon dioxide each year as 189 acres of our northern forest.
About ReVision Energy
ReVision Energy is a local, employee-owned solar company and certified B Corp that has installed more than 9,000 zero-emission clean energy systems since 2003. To ensure maximum performance and longevity in a relatively harsh northern climate, each system is designed by ReVision's team of engineers from Brown, Dartmouth, UMaine and MIT and installed by licensed and highly trained professional technicians. In 2019, ReVision Energy was named the New England Clean Energy Company of the Year by the Northeast Clean Energy Council, and was ranked #5 in the nation by Solar Power Industry Magazine. The company specializes in the design, installation and service of solar energy systems combined with air source heat pumps, battery storage and electric vehicle charging stations. ReVision Energy's 260 employees work out of five "decarbonization facilities" in northern New England located in Enfield and Brentwood, NH, Liberty and Portland, ME and in North Andover, MA.
About Alice Peck Day Memorial Hospital (APD)
Known for highly personalized and high-quality care, APD is the community hospital of the Upper Valley of Vermont and New Hampshire. Founded in 1932 and a member of Dartmouth Health since 2016, APD's areas of clinical excellence include surgical services, primary care, geriatric care, sleep health, orthopaedics, and emergency services. The APD campus is also home to a senior living community with assisted and independent living facilities. Follow us on Facebook, Instagram, LinkedIn, Twitter, and YouTube.