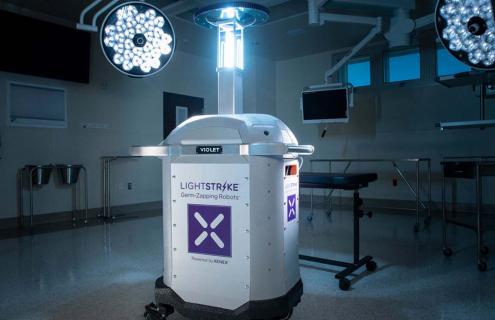 Say hello to Violet!
There are a lot of UV disinfecting products out there, but this robot is different. It's the most powerful ultraviolet robot in the world. We are proud to have it as a member of our Environmental Services team as APD embraces innovation. 
APD hosted an online naming competition for our new disinfecting robot and the results are in. It was a tight competition, but Violet is the winning name! The fundraiser began on APD's 90th Anniversary, February 1, 2022 and ended on March 31, 2022 at noon. Each $2.50 ticket equaled one vote. Proceeds benefit the APD Annual Fund.
In total, 225 votes were cast. Violet received 67, R2clean2 came in second with 48, and Anne Droid came in third with 35 votes. The other contenders that didn't make the final three, but deserve an honorable mention, are AP-D2, Daphne, EVE, Lurch, Rosey, and the Zappah.
Thanks to everyone who voted!
About Alice Peck Day Memorial Hospital (APD)
Known for highly personalized and high-quality care, APD is the community hospital of the Upper Valley of Vermont and New Hampshire. Founded in 1932 and a member of Dartmouth Health since 2016, APD's areas of clinical excellence include surgical services, primary care, geriatric care, sleep health, orthopaedics, and emergency services. The APD campus is also home to a senior living community with assisted and independent living facilities. Follow us on Facebook, Instagram, LinkedIn, Twitter, and YouTube.