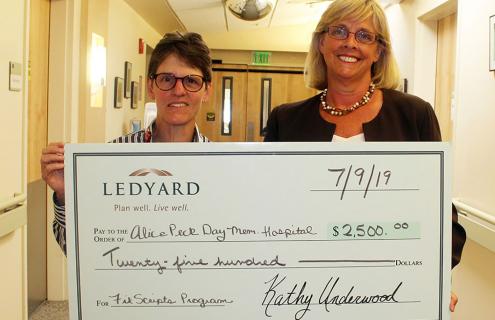 APD received a $2,500 gift from Ledyard National Bank to support the FitScripts Program.
APD's President and CEO Sue Mooney accepted the check from Ledyard's President and CEO Kathy Underwood (shown above) at the hospital.
"APD is grateful to Kathy and Ledyard for supporting FitScripts," Sue Mooney stated. "This gift means that more patients will benefit from access to local fitness opportunities. Many of our patients don't have access to these types of opportunities, so this program really makes a difference in their lives." she added.
"As a community bank, our interests extend beyond helping clients plan for their financial future. We are committed to doing our part to support health care initiatives in the communities we serve, and appreciate the opportunity to support a local community hospital," stated Kathy Underwood. "We are so appreciative of Alice Peck Day's commitment to serve the community with innovative programming like FitScripts, which meet the evolving needs of their patients by placing them on a path to a healthier lifestyle."
APD's community health department launched FitScripts in 2018 as a pilot program aimed at getting patients to start exercising more and begin leading a healthier lifestyle. FitScripts allows APD primary care providers to write referrals for adult patients with chronic conditions for whom cost has been a barrier, to attend area fitness centers, including the CCBA in Lebanon and the Upper Valley Aquatic Center in White River Junction.
About Alice Peck Day Memorial Hospital (APD)
Known for highly personalized and high-quality care, APD is the community hospital of the Upper Valley of Vermont and New Hampshire. Founded in 1932 and a member of Dartmouth Health since 2016, APD's areas of clinical excellence include surgical services, primary care, geriatric care, sleep health, orthopaedics, and emergency services. The APD campus is also home to a senior living community with assisted and independent living facilities. Follow us on Facebook, Instagram, LinkedIn, Twitter, and YouTube.