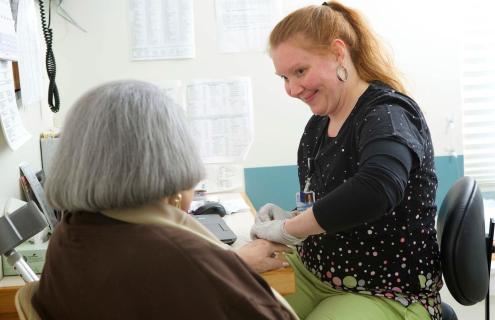 APD has received an award totaling $550,000 to enhance services for patients with diabetes. With this funding, APD will grow existing services and build a Diabetes Clinic embedded in Primary Care. This clinic will serve patients and clinicians in addressing the complexities of diabetes by utilizing personalized and up-to-date best practices established by the American Diabetes Association.  
Diabetes remains one of the dominant chronic conditions in the United States and patients at APD mirror the national trends. Approximately 25% of primary care patients have diabetes or prediabetes.  While diabetes medications and technologies have advanced in the past 20 years, diabetes management has become more challenging. Studies show nearly 50% of patients with diabetes have not met treatment targets with less than 25% reaching diabetes and cardiovascular targets. 
The APD Diabetes Clinic would address this challenge by:
Creating system-wide changes to facilitate the provision of diabetes care within primary care visits.

Increasing access to diabetes self-management education.

Increasing diabetes-only visits to address therapeutic inertia and barriers to care.

Utilizing new diabetes technologies.

Increasing staff education on new treatments and guidelines.
The clinic will be staffed with a nurse practitioner/director certified in diabetes care and education (CDCES), nurse educator, support staff, and ongoing support and involvement from the assistant medical director of Primary Care. 
"Diabetes is a complex disease, affecting many of our patients and requiring constant attention in the context of primary care. This embedded clinic will help us improve this care and generate models for chronic disease management in general," said Annika Brown, MD, assistant medical director at APD.
This project is supported by the Centers for Disease Control and Prevention, United States Department of Health and Human Services (HHS) as part of an award totaling $24,568,498.
About Alice Peck Day Memorial Hospital (APD)
Known for highly personalized and high-quality care, APD is the community hospital of the Upper Valley of Vermont and New Hampshire. Founded in 1932 and a member of the Dartmouth-Hitchcock Health system since 2016, APD's areas of clinical excellence include surgical services, primary care, geriatric care, sleep health, and emergency services. In 2021, APD was one of only three hospitals in NH to receive a fifth star from CMS for its patient quality. The APD campus is also home to a senior living community with assisted and independent living facilities. Please join us on Facebook, Instagram, LinkedIn, Twitter, and YouTube.