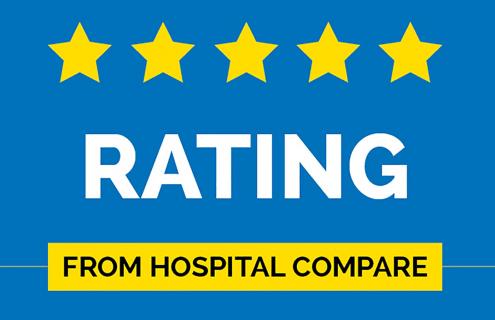 APD is one of only three New Hampshire hospitals to receive the highest rating of five-stars from the Centers of Medicare and Medicaid Services (CMS) in this year's Hospital Compare report.
CMS updated its overall hospital quality star ratings for 2021 and now assigns stars based on 48 measures in the following five categories: mortality, safety of care, readmission, patient experience, and timely and effective care. CMS assigned star ratings to hospitals nationwide based on their performance across those five quality categories. This year:
455 hospitals received a five-star rating
988 hospitals received a four-star rating
1,018 hospitals received a three-star rating
690 hospitals received a two-star rating
204 hospitals received a one-star rating
"It's wonderful to have the CMS recognize APD's quality measures," said APD President and CEO Sue Mooney, MD, MS, FACOG. "It's a shining example of our efforts to deliver safe, effective, timely care, and a personalized patient experience, as we work to improve the health and wellbeing of our community," she added.
The overall star rating for hospitals summarizes quality information on important topics, such as readmissions and deaths after heart attacks or pneumonia. The overall rating, between 1 and 5 stars, summarizes a variety of measures across seven areas of quality into a single star rating for each hospital. The seven measure groups include:
Mortality
Safety of care
Readmission
Patient experience
Effectiveness of care
Timeliness of care
Efficient use of medical imaging
The rating shows how well each hospital performed on an identified set of quality measures compared to other hospitals in the U.S. The more stars, the better a hospital performed on the available quality measures.
About Alice Peck Day Memorial Hospital (APD)
Known for highly personalized and high-quality care, APD is the community hospital of the Upper Valley of Vermont and New Hampshire. Founded in 1932 and a member of Dartmouth Health since 2016, APD's areas of clinical excellence include surgical services, primary care, geriatric care, sleep health, orthopaedics, and emergency services. The APD campus is also home to a senior living community with assisted and independent living facilities. Follow us on Facebook, Instagram, LinkedIn, Twitter, and YouTube.