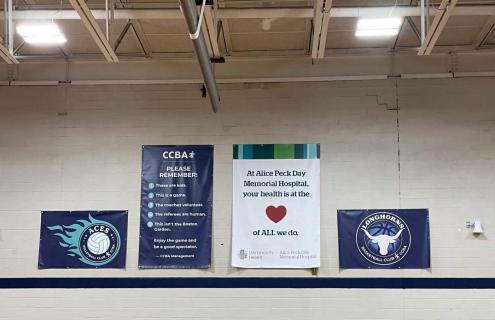 William S. Carter established Carter & Churchill, one of Lebanon, New Hampshire's major manufacturing firms. In 1918, William and his wife Theodora built the Carter Community Building and turned it over to the community in 1919 for the use of the young people of Lebanon.
Alice Peck Day, a fifth generation Lebanon resident, willed the 1780 Peck Homestead on Mascoma Street to the town upon her death in 1927. She requested her home be used to start a community hospital, which opened its doors in 1932 after a successful fundraising campaign.
Today, the Carter Community Building Association (CCBA), a nonprofit community recreation organization, and Alice Peck Day Memorial Hospital, a community hospital known for its high-quality and personalized care, are working together to promote the health and well-being of local residents.
One example: APD's FitScripts program, launched in 2018, allows primary care providers to write referrals for patients 15 years and older to area fitness centers, including the CCBA.
"CCBA and APD are aligned — our organizations know healthy habits and prevention are the first step. We're also here if you've had an injury," said Kerry Artman, executive director of the CCBA. "FitScripts provides access, allowing participants to take care of their physical and mental health. It's a natural partnership."
FitScripts are offered to patients living with one or more chronic conditions and for whom the cost of a gym membership has been a barrier. Some are looking for a way to get moving, while others are managing specific illnesses or injuries. The CCBA offers free 30-minute consultations with a personal trainer and free demonstrations of how to use exercise equipment.
There are easy ways to start, such as walking in the pool. "It's easy on the joints, and you can build up your cardio," Artman said. "We also offer treadmills and NuStep low-impact cross-trainers. You can be at any level of fitness and grow from there."
If the participant meets the monthly participation goal APD will renew the membership on a month-to-month basis.
From batting cages to cable-based strength equipment to basketball and pickleball, it's likely a FitScripts participant will find a fitness option that works for them. Artman recommends starting with a group fitness class, such as Aqua Fitness, Zumba, or yoga.
"Group fitness classes have a high success and retention rate," Artman said. "Individuals build friendships, making a connection to the instructor and to the other participants. It's also a scheduled activity, and putting it in your calendar helps drive the habit."
It helps that the CCBA is welcoming and knowledgeable. "There's no judgement in our encouraging environment," Artman said. "All ages and abilities can feel safe starting where they are."\
Five years later, FitScripts is a success. The program started with 34 CCBA participants in 2019-2020 and grew to 110 (5 teens, 27 seniors, and 78 adults) in 2021-2022.
"It's really been meaningful for participants. We have a lot of people who come every month for Zoom and in-person offerings," Artman said. "FitScripts is a special program. We take care of people. We take that seriously. But everything else is about fun."