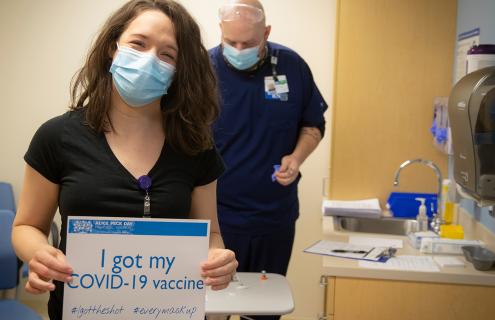 COVID-19 vaccines and boosters are available to all eligible patients at APD. Simply call (603) 442-5612, self-schedule through myDH, or speak with your care team while you are here.
If you aren't near APD, please know there are more than 500 locations across the State of New Hampshire offering the vaccine and booster, and many locations offer walk-in service without the need for an appointment. Find COVID-19 vaccination sites near you.
Please keep your vaccination card. It is the official record of your COVID-19 vaccination status.
Get Vaccinated and Boosted
It is critical to get as many people as possible vaccinated and boosted if we want to see an end to this pandemic. Vaccines will help to protect our children, loved ones, and community members from COVID-19.
If you have been vaccinated and boosted, we urge you to share your experience with someone you care about who isn't vaccinated. Tell them why you got vaccinated and encourage them to do so. If you have not yet been vaccinated or boosted, there are many opportunities to do so. It will not only protect you, but it will benefit those you love and those around you.
Booster shots are now recommended for ages 5 and older to protect against COVID-19 and the variants.
Vaccines and boosters are given by appointment only, no walk-in service is provided.
Same-day appointments are often available.
COVID-19 boosters are available for all eligible patients
Please schedule your appointment through myD-H, or call (603) 442-5612 to request a booster appointment.
Please keep in mind:
Boosters are also widely available at pharmacies and other retailers.
Patients must present their vaccination cards at their booster appointment, clearly showing dates their previous vaccine doses were administered.
Keep Yourself and Others Safe
Wear your medical mask
clean your hands
practice social distancing 
Stay Informed
Please review Dartmouth-Hitchcock Health (D-HH) system vaccine updates and booster shot information.
View D-HH's answers to many frequently asked vaccine questions
Helpful Printable Resources for Parents and Information
Upload Your Vaccination Card to myD-H
Upload your vaccination card to myD-H so that you will always have access to your vaccination status. 
You will have a unique QR code in your account that you can show at locations that require you to share your COVID-19 vaccination status. 
Additional Resources