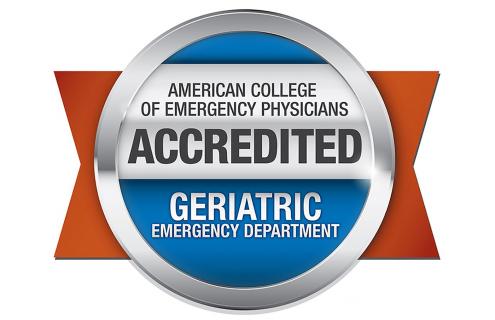 APD's Emergency Services team has earned Geriatric Accreditation from the American College of Emergency Physicians (ACEP). The accreditation program is part of an effort to improve and standardize emergency care for older patients and includes education, geriatric-focused policies and protocols, and quality improvement.
"I'm proud of our Emergency Medicine team for earning this accreditation," said Anne Tyrol, RN, CEN, CPEN, Associate Chief Nursing Officer at APD. "Seniors who visit our emergency department can be assured that we have the expertise, equipment, and personnel in place to provide them optimal care."
"Elderly patients who seek emergency treatment often have complex medical and social issues that can be challenging," said Michael Lynch, MD, MBA, Chief Medical Officer and practicing emergency physician at APD. "Through accreditation, we are able to provide specialized, senior-specific emergency care to this growing population as we work to fulfill our mission to improve the health and wellbeing of our entire community."
Dartmouth-Hitchcock Health (D-HH) and West Health announced in January 2021 that they would provide telehealth services and geriatric emergency department training, education and other resources to four rural hospitals in a two-phase "hub and spoke" approach. The first two hospitals to receive telemedicine support from Dartmouth-Hitchcock Medical Center (DHMC) were APD and Mt. Ascutney Hospital and Health Center in Windsor, VT, both members of the D-HH system.
APD gained access to supplemental telehealth services provided by DHMC with an emphasis on geriatric nursing, transitional care management, and support of on-call geriatricians. The partnership enabled APD to earn national accreditation as a Level 2 GED from ACEP in August 2021.
About Alice Peck Day Memorial Hospital (APD)
Known for highly personalized and high-quality care, APD is the community hospital of the Upper Valley of Vermont and New Hampshire. Founded in 1932 and a member of the Dartmouth-Hitchcock Health system since 2016, APD's areas of clinical excellence include surgical services, primary care, geriatric care, sleep health, and emergency services. In 2021, APD was one of only three hospitals in NH to receive a fifth star from CMS for its patient quality. The APD campus is also home to a senior living community with assisted and independent living facilities. Please join us on Facebook, Instagram, LinkedIn, Twitter, and YouTube.