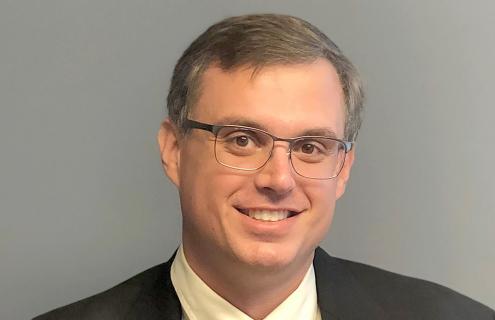 APD has announced the addition of Kyle Fisher to the Hospital's Board of Trustees, effective January 1, 2020.
Mr. Fisher is the Executive Director of LISTEN Community Services in Lebanon, NH and has served with the agency for six years. Serving both Vermont and New Hampshire, LISTEN's mission is to meet the essential needs of Upper Valley individuals and families. LISTEN's work affects the health outcomes of the community by directly addressing social determinants of health.
Mr. Fisher previously worked in the buying office for Costco Wholesale and brings experience in both non-profit and corporate finance. He holds a MBA from the Ross School of Business at the University of Michigan, Ann Arbor, and a bachelor's degree in finance from the University of Michigan in Dearborn.
Mr. Fisher sits on Dartmouth's Community Engagement Advisory Board at the Geisel School of Medicine and has volunteered as a board member for the Upper Valley Housing Coalition. He moved to the Upper Valley in 2013, began his work immediately thereafter as a volunteer at LISTEN, and become Executive Director in 2016.
"Kyle's experience will bring real value to our Board, especially because our strategic plan emphasizes partnering with other social service organizations to improve the overall health and wellbeing of our community," said APD president and CEO Sue Mooney, MD, MS, FACOG. "I'm truly delighted that he is joining our talented Board of Trustees," she added.
"I'm thrilled to work with the trustees and leadership at APD," Fisher said. "The hospital's commitment to build a healthier community, positively impact the social determinates of health, and improve the wellbeing of the region resonate with my values. I look forward to assisting in those efforts," he added.
Mr. Fisher replaces trustee Anne D. MacEwan, whose term has expired.
Alice Peck Day Memorial Hospital Board of Trustees
2020 Officers
Greg W. Lange, Chair
Marisa D. Devlin, Vice Chair
Brett C. Peltzer, Treasurer
Michael F. Long, Secretary
2020 Trustees
Clayton R. Adams
George T. Blike, MD
Kyle D. Fisher
Rebecca W. Holcombe
Patrick F. Jordan III, MBA
Tina E. Naimie
Brenan (Ben) Riehl
Scott W. Rodi, MD
John L. Scherding
Jennifer S. Schiffman, MPH
Charles J. Wheelan
Trustees Ex-officio
Susan E. Mooney, MD, MS, FACOG, President & CEO
John P. Houde, MD, President, Medical Staff
Michael T. Lynch, MD, CMO
Sara L. Kobylenski, Lifecare Board Chair
Mary M. Oseid, D-HH CEO Designee
About Alice Peck Day Memorial Hospital (APD)
Known for highly personalized and high-quality care, APD is the community hospital of the Upper Valley of Vermont and New Hampshire. Founded in 1932 and a member of the Dartmouth-Hitchcock Health system since 2016, APD's areas of clinical excellence include surgical services, primary care, geriatric care, sleep health, and emergency services. In 2021, APD was one of only three hospitals in NH to receive a fifth star from CMS for its patient quality. The APD campus is also home to a senior living community with assisted and independent living facilities. Please join us on Facebook, Instagram, LinkedIn, Twitter, and YouTube.