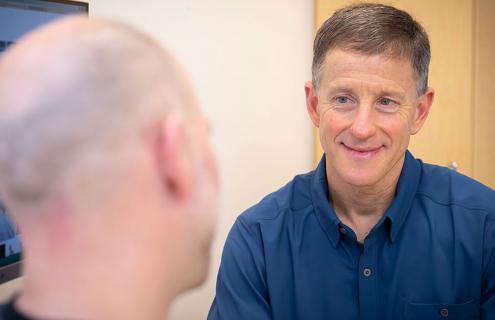 APD is pleased to announce the addition of sports medicine physician Peter Loescher, MD. Dr. Loescher will start welcoming patients in the Multi-Specialty Clinic on January 13, 2020.
"I'm excited to call APD the new home of my medical practice," Dr. Loescher said. "Serving the region is important to me, and I'm grateful to continue doing so close to home at a community hospital that is part of the Dartmouth-Hitchcock Health system," he added.
"Dr. Loescher complements our orthopaedic sports medicine services well," said Dale Collins Vidal, MD, MS, Executive Director of the APD Multi-Specialty Clinic. "His focus on non-surgical therapies to recover from injury and to prolong joint health and mobility, as well as his strong and loyal following of local athletes, will be welcome additions to APD," she added.
Dr. Loescher spent the previous 12 years caring for patients at Gifford Health Care's Sharon Health Center in Sharon, Vermont. Dr. Loescher earned his medical degree at the University of Massachusetts Medical School in Worcester, Massachusetts and his BA at Amherst College in Massachusetts. He completed his residency at Dartmouth-Hitchcock Medical Center and is board certified by the American Board of Family Practice. He also completed a fellowship in sports medicine at the University of Oklahoma, and holds a CAQ (certificate of added qualification) in sports medicine.
About Alice Peck Day Memorial Hospital (APD)
Known for highly personalized and high-quality care, APD is the community hospital of the Upper Valley of Vermont and New Hampshire. Founded in 1932 and a member of Dartmouth Health since 2016, APD's areas of clinical excellence include surgical services, primary care, geriatric care, sleep health, orthopaedics, and emergency services. The APD campus is also home to a senior living community with assisted and independent living facilities. Follow us on Facebook, Instagram, LinkedIn, Twitter, and YouTube.