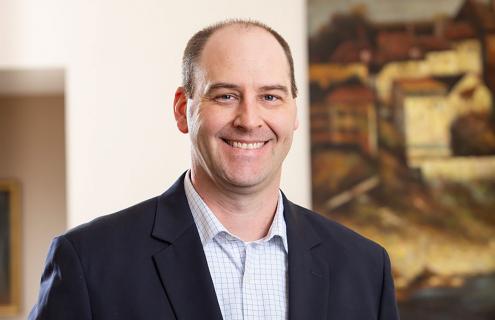 Todd Roberts has been promoted to Vice President of Finance at APD. In this role, he assumes leadership of fiscal services and materials management while reporting to the president and serving as a member of the senior leadership team.
Roberts has been APD's controller since 2013. Prior to APD, he spent time as controller at Casella Construction and as director of fiscal services at Mt. Ascutney Hospital. He earned his BS in business administration at St. Michael's College in Colchester, VT.
"I'm thrilled to take on additional responsibilities for our non-profit hospital," Roberts said. "I look forward to working closely with our senior leadership team and our Dartmouth-Hitchcock Health colleagues on APD's financial strategies and contributing to the development and realization of our strategic goals," he added.
"I've enjoyed working with Todd for the last six years and have full confidence in his fiscal skills and leadership capabilities," said APD President and CEO Sue Mooney, MD, MS, FACOG. "He is a strong financial professional and I'm pleased that he has agreed to take on a greater role," she added.
Roberts replaces interim CFO Christopher Fallon, CPA.
About Alice Peck Day Memorial Hospital (APD)
Known for highly personalized and high-quality care, APD is the community hospital of the Upper Valley of Vermont and New Hampshire. Founded in 1932 and a member of the Dartmouth-Hitchcock Health system since 2016, APD's areas of clinical excellence include surgical services, primary care, geriatric care, sleep health, and emergency services. In 2021, APD was one of only three hospitals in NH to receive a fifth star from CMS for its patient quality. The APD campus is also home to a senior living community with assisted and independent living facilities. Please join us on Facebook, Instagram, LinkedIn, Twitter, and YouTube.