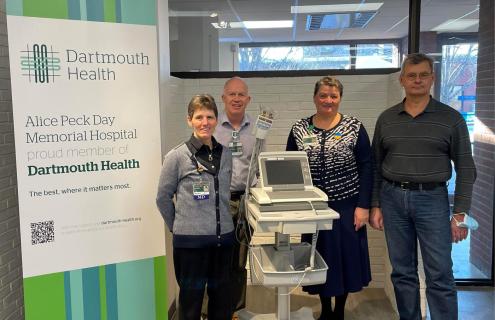 Alice Peck Day Memorial Hospital has donated an electrocardiogram (EKG) machine to a hospital in Ukraine caring for wounded soldiers and civilians.
Sunflower of Peace—a nonprofit organization providing lifesaving medical and humanitarian aid to Ukrainians affected by the Russian military invasion—sponsored the transfer of the EKG to Ukraine. (For security purposes, the name and location of Ukrainian hospital is not being disclosed.)
"Many beds of the hospital are occupied by patients with severe injuries from the war," said Irina Kalaida, who is originally from Ukraine and works as a data analyst with Dartmouth Health. "The EKG machine will help providers diagnose with higher accuracy, especially patients undergoing surgical treatment."
In addition to the support of Kalaida, the donation was facilitated by Laurie Harding, a retired nurse involved with several Upper Valley health-related projects, including Granite United Way Women's Leadership Council, Headrest, and the New Hampshire Endowment for Health.
The EKG machine is expected to arrive in Ukraine later this month.
About Alice Peck Day Memorial Hospital (APD)
Known for highly personalized and high-quality care, APD is the community hospital of the Upper Valley of Vermont and New Hampshire. Founded in 1932 and a member of Dartmouth Health since 2016, APD's areas of clinical excellence include surgical services, primary care, geriatric care, sleep health, orthopaedics, and emergency services. The APD campus is also home to a senior living community with assisted and independent living facilities. Follow us on Facebook, Instagram, LinkedIn, Twitter, and YouTube.