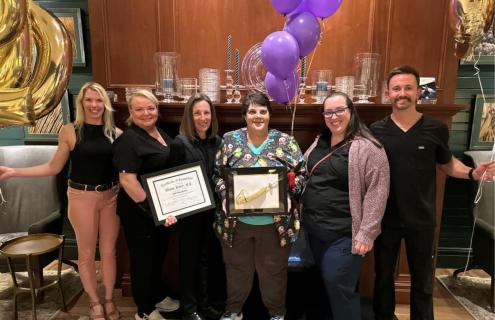 Lebanon, NH — Diane C. Riley, MD, FAAOS, CAQSH, has been recognized by the Institute of Advanced Ultrasound Guided Procedures as a national Center of Excellence Physician for carpal tunnel release with UltraGuideCTR™ and real-time ultrasound guidance.
Riley was the first surgeon in New England to offer carpal tunnel release with UltraGuideCTR and ultrasound guidance. In less than a year, more than 200 patients have been treated at Alice Peck Day Memorial Hospital, a member of Dartmouth Health, with this minimally invasive technique. She also offers minimally invasive trigger finger release with UltraGuideTFR.
Carpal Tunnel Syndrome (CTS) is caused by compression on the median nerve, resulting in numbness, tingling, and weakness in the hand and arm. It affects up to 13 million people annually. With this minimally invasive technique, most patients do not need occupational therapy and they return to work and normal activities within three to six days.
"This is an exciting moment for me, my patients, and staff. We are all impressed with the design of the ultrasound guided techniques and their significantly improved outcomes," Riley said. "An ultrasound is a painless, simple, and accurate way to diagnose and treat carpal tunnel syndrome. This streamlined approach can be done under local anesthesia and allow for accurate releases with the smallest incisions and fastest recovery — a win-win situation for us all."
"The most heartfelt congratulations to Dr. Diane Riley and her team at Alice Peck Day Orthopaedics on earning the esteemed designation as the newest National Center of Excellence for UltraGuideCTR using ultrasound guidance," said TJ McCaslin, Practice Development Consultant at Sonex Health. "Her team truly exemplifies what it means to prioritize patient care and they tell me their favorite part is getting their patients back to their lives so quickly."
A graduate of Dartmouth College and the Geisel School of Medicine at Dartmouth, Riley is a board-certified hand surgeon who specializes in the hand, wrist, and elbow. She is a member of the American Society for Surgery of the Hand, where she served on the public education committee, and is a fellow of the American Academy of Orthopaedic Surgeons. She has practiced in the Upper Valley for almost 25 years.
About Sonex Health
Sonex Health is dedicated to improving the way in which patients receive care for carpal tunnel syndrome and is invested in continuing to prove the efficacy and improved quality of life that UltraGuideCTR and real-time ultrasound guidance provides patients through ongoing clinical data. For more information, visit www.sonexhealth.com
About Alice Peck Day Memorial Hospital (APD)
Known for highly personalized and high-quality care, APD is the community hospital of the Upper Valley of Vermont and New Hampshire. Founded in 1932 and a member of Dartmouth Health since 2016, APD's areas of clinical excellence include surgical services, primary care, geriatric care, sleep health, orthopaedics, and emergency services. The APD campus is also home to a senior living community with assisted and independent living facilities. Follow us on Facebook, Instagram, LinkedIn, Twitter, and YouTube.