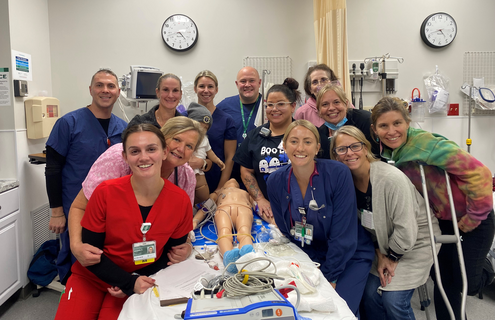 Pediatric emergencies are stressful for everyone involved: the child, the parents, and healthcare providers. But Alice Peck Day Memorial Hospital (APD) is building pediatric-friendly emergency services with continual training and education. In October, APD's Emergency Department participated in the COMET (Community Outreach Mobile Education Training) program to enhance the care provided to the pediatric community.
"The COMET program provides pediatric acute care simulation scenarios with the goals of providing medical knowledge, building teamwork, identifying any system or practice issues, and increasing patient safety," said Kristie Foster, BSN, RN, ED Nurse Manager/Clinical Nurse Educator. "Training was held in our care area with real-time scenarios based on common pediatric emergencies."
APD's Emergency Department was recognized in July under the Always Ready for Children program offered by New Hampshire EMS for Children. The COMET program built upon July's best-practices review and training by providing real-life, hands-on scenarios revolving around sepsis, seizures, shock, and how to safely deliver medications to pediatric patients. Two sessions — morning and afternoon — were held so all staff could participate.
"We discussed tips and tricks that the pediatric ED trainers have learned in their career, including pitfalls to avoid and lessons learned. This was done in a kind and safe learning environment," said Foster.
COMET training already resulted in one improvement: collaboration with the APD pharmacy to improve the workflow of a medication needed for the pediatric population.
"We learned so much," said Foster. "The ED team already feels more confident in caring for pediatric patients and better prepared to deal with pediatric emergencies."
"The training was fabulous! The educators were dynamic and you could tell they truly loved what they are doing. They gave our team great feedback," said Melissa Warrington, BSN, RN.
The COMET training program was funded by philanthropy. "Our donors play a key role in the care we are able to provide to our patients, both young and old," said Melissa Dalton, Director of Development at APD.