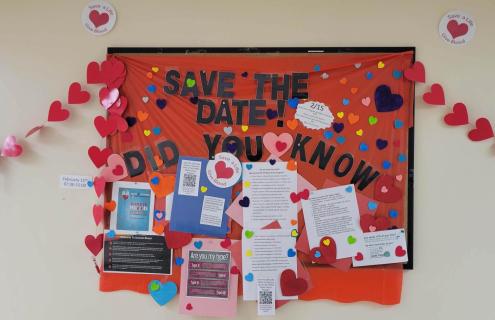 The bottom level of the hospital was busier than usual on February 15. More than 50 employees participated in Alice Peck Day Memorial Hospital's first blood drive in partnership with the Dartmouth-Hitchcock Medical Center (DHMC) Blood Donor Program.
"Having the drive on campus made a huge difference, especially when we had someone get deferred and we were able to find a new volunteer donor," said Kristen Webber, MLT, Laboratory.
The need for blood in the Upper Valley has reached an all-time high. In December 2021 — for the first time in its history — the American Red Cross reduced the amount of blood it allocates to New Hampshire hospitals, so local hospitals must rely more heavily on donations to keep up with the volume of blood needed.
"When you donate with the DHMC Donor Program, the donated blood stays here in the Upper Valley for our friends and family in need," said Zbigniew "Ziggy" Szczepiorkowski, MD, PhD, FCAP, professor of pathology and laboratory medicine. "Of the 39 units collected, 25% goes to cancer patients while the other 75% goes to other DHMC patients."
One donation can save up to three lives. And the impact is immediate: the APD donated units were used that weekend at DHMC.
"We had more than 50 employees participate and we could feel the support from everyone who could not donate," Webber said.
"It was truly an amazing day collaborating with all the APD staff. Such an easier day being so close. Everyone was so kind and happy to have us," said Diana Main, RN, BSN, clinical nurse supervisor of DHMC Blood Donor Program.
The next APD Blood Drive will be held in June.