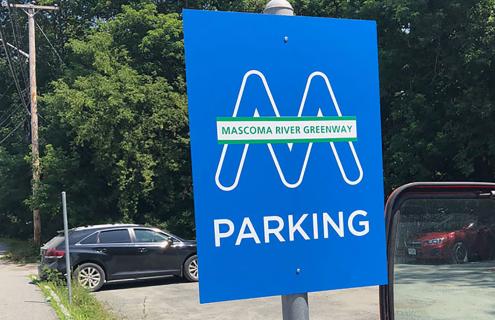 A Mascoma River Greenway (MRG) access trail was recently completed by the Upper Valley Trails Alliance (UVTA). The trail connects the Alice Peck Day Memorial Hospital (APD) parking lot to the MRG.
The MRG is a multi-use pathway starting at the Mascoma Street/High Street intersection and extending west to Glen Road. It serves as the main transportation corridor for bikes and pedestrians through the heart of Lebanon and West Lebanon, connecting Lebanon's neighborhoods with workplaces, schools, open spaces, shopping areas, restaurants, APD's campus and transit stops.
APD supports the trail as it provides no-cost healthy recreational opportunities, transportation benefits, economic development, and conservation benefits by taking cars off the road and allowing for appreciation of the Mascoma River.
"This is one of the first official access trails to the MRG," said Russell Hirschler, Executive Director of the UVTA. "Just gauging from interest while we were building it, I can confidently say it will be used often," he added.
APD's community health department and Dartmouth-Hitchcock community health donated $10,000 to make the access trail a reality.
"Providing safe access to free recreation and alternative means of transportation is in line with our commitment to improve the health and wellbeing of our community," said APD President and CEO Sue Mooney, MD, MS, FACOG. "We hope our staff, patients, neighbors, and Lifecare residents enjoy the new access trail and use it often," she added.
A public celebration of the trail's opening was held on August 22, 2019, on the lawn of the APD Homestead. The event was free and open to the public, and featured remarks from Lebanon City Mayor Timothy McNamara; Lebanon Recreation and Parks Director Paul Coats; UVTA Executive Director Russell Hirschler; and APD VP of External Affairs, Peter Glenshaw.
The 250-foot long switchback trail is built to grade and wheelchair-accessible. The trail was initially cut in to the land by an excavator, followed by over 60 hours of manual work by the UVTA team. It has a 6" gravel base, covered by thick geotextile cloth, and is topped with 4" of hard pack.
The City of Lebanon has tentative plans to blacktop the trail in the future.