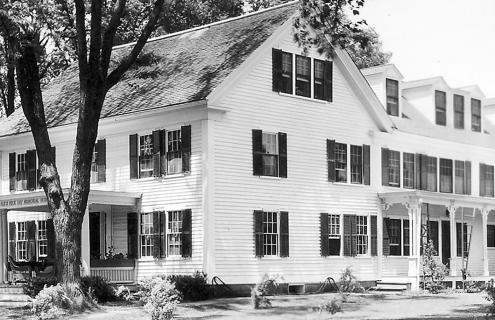 The Peck Homestead at 127 Mascoma Street in Lebanon, NH, has been designated a Historical Landmark by the Lebanon Heritage Commission.
Peter Glenshaw, VP of External Affairs at APD, accepted a plaque and certificate of designation on June 19, 2019 at a Lebanon City Council meeting.
"APD's roots run deep in this city, and so we are honored to receive this designation," Glenshaw said. "We recently welcomed family descendants of Mrs. Alice Peck Day to the hospital campus who were visiting from Australia. They were grateful that their ancestor had the foresight to convert her home into a cottage hospital in 1932, which resulted in a medical campus today that sees more than 20,000 patients every year," he added.
The Homestead was built ca. 1780 by Simeon Peck (1731-1814) an early resident of Lebanon who arrived in 1774 from Norwich, CT. For five generations the house was the family home of Peck's descendants before Alice Peck Day (1860-1927) bequeathed the building to become a cottage hospital. The hospital opened its doors in 1932, renovated in 1937, and then repurposed to medical offices in 1964 when the new APD hospital was built. Today, the first floor of Homestead is occupied by Armistead Home Care and the upper levels serve as office space for APD.
"The Peck Homestead is a rich asset to the history of Lebanon and the story of our city," said Robert Welsch, Chair of the Lebanon Heritage Commission. "We are pleased to recognize the historical and cultural significance of this landmark. It is one of a small number of Lebanon homes built in the eighteenth century that still survives," he added.
The plaque and certificate are scheduled to be installed on the Homestead later this month.
About Alice Peck Day Memorial Hospital (APD)
Known for highly personalized and high-quality care, APD is the community hospital of the Upper Valley of Vermont and New Hampshire. Founded in 1932 and a member of Dartmouth Health since 2016, APD's areas of clinical excellence include surgical services, primary care, geriatric care, sleep health, orthopaedics, and emergency services. The APD campus is also home to a senior living community with assisted and independent living facilities. Follow us on Facebook, Instagram, LinkedIn, Twitter, and YouTube.