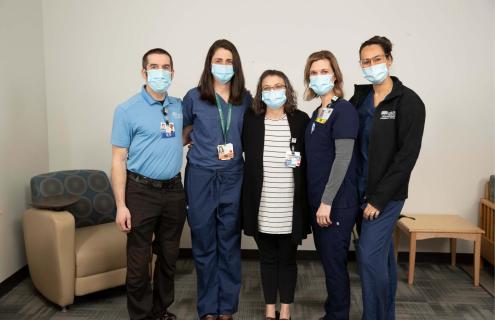 Alice Peck Day Memorial Hospital's Emergency Department has been named a 2022 Human Experience Guardian of Excellence Award® winner by Press Ganey, the global leader in healthcare experience solutions and services.
Alice Peck Day Memorial Hospital won the Guardian of Excellence - Patient Experience award for its Emergency Department. APD was one of four hospitals in New Hampshire to be recognized.
The award is part of Press Ganey's annual ranking of the top hospitals and health systems in the country, according to performance in patient experience. Criteria for selection included teamwork and patients' likelihood to recommend. As a winner of the award, Alice Peck Day is in the top 5% of healthcare providers in delivering high-quality patient experience in the last year.
"We are proud of the emergency department team here at Alice Peck Day," said Michael Lynch, MD, MBA, Chief Medical Officer, Alice Peck Day Memorial Hospital. "Over the last several years and through the pandemic, the nursing and tech staff, along with the DH emergency medicine physicians and advanced practice providers who staff the ED, have taken care of an increasing number of patients while maintaining these high patient satisfaction scores. It speaks volumes to their dedication to their work and the community."
"By putting their patients and workforce first each and every day, Alice Peck Day Memorial Hospital is demonstrating their unwavering commitment to their employees and the communities they serve," said Patrick T. Ryan, chairman and chief executive officer, Press Ganey. "The caregivers at APD have inspired us with the compassion, empathy, and human connection they bring to the clinical healthcare setting."
About Press Ganey
Press Ganey, the leading Human Experience (HX) healthcare performance improvement company, offers an integrated suite of solutions that address safety, clinical excellence, patient experience and workforce engagement. The company works with more than 41,000 healthcare facilities in its mission to reduce patient suffering and enhance caregiver resilience to improve the overall safety, quality and experience of care. Press Ganey is a PG Forsta company.
About Alice Peck Day Memorial Hospital (APD)
Known for highly personalized and high-quality care, APD is the community hospital of the Upper Valley of Vermont and New Hampshire. Founded in 1932 and a member of the Dartmouth-Hitchcock Health system since 2016, APD's areas of clinical excellence include surgical services, primary care, geriatric care, sleep health, and emergency services.