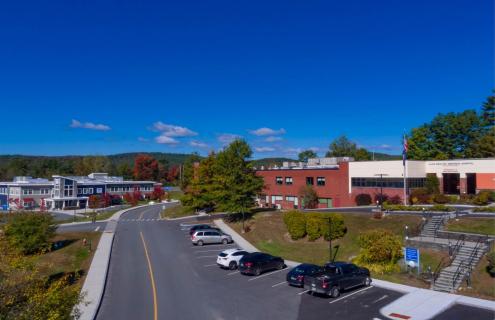 The Alice Peck Day Memorial Hospital Board of Trustees elected three new community trustees and one new physician trustee to the board during the December 2022 meeting. Their three-year terms began on January 1, 2023.
The four new members are: Dr. Anna Adachi-Mejia, PhD, CPCC, Principal at Adachi Labs, LLC; Dr. Ellesse-Roselee Akré, PhD, MA, Assistant Professor at The Dartmouth Institute; Laura M. Greer, MD, Pediatrics, Medical Staff President at Alice Peck Day Memorial Hospital; and Chelsea Paige, People Operations Associate at Donorbox.
"The diversity of our patients, people, community partners, volunteers — such as our Board of Trustees — shows a strength we support and celebrate," said Sue Mooney, president & CEO of Alice Peck Day Memorial Hospital. "We welcome our new members and look forward to working with them to build a healthier community."
Dr. Anna Adachi-Mejia is a former course director at The Dartmouth Institute for Health Policy & Clinical Practice, where she guided and mentored graduate students on developing scientific grant proposals. She also has over two decades of experience managing and training survey research teams. She completed her studies at The Center for the Evaluative Clinical Sciences at Dartmouth (now called The Dartmouth Institute for Health Policy & Clinical Practice). She completed her coaching certification with the Co-Active Training Institute.
Dr. Ellesse-Roselee Akré is an assistant professor of The Dartmouth Institute for Health Policy and Clinical Practice. Her research portfolio focuses on health inequities, intersectionality, and access to healthcare. She utilizes tools from health services research and population health science to demonstrate how macro level systems such as heterosexism, sexism, and racism are determinants of health inequities. Prior to joining Dartmouth, she was a postdoctoral researcher in the Department of Medicine, Health, and Society at Vanderbilt University where she studied LGBT health disparities and aging. She earned a BA in psychology with a minor in Africana studies from San Diego State University, an MA in women's health from Suffolk University in Boston, and a PhD in health services research from the University of Maryland's School of Public Health.
Dr. Laura M. Greer is the new president of the APD Medical Staff. She received her medical degree in 2006 from Albany Medical College, Albany, NY and completed her residency in Pediatrics, at Dartmouth Hitchcock Medical Center in 2008. She lives in the Upper Valley with her husband and their two sons. Her husband is a professor in the Geology Department at Dartmouth College who studies, teaches, and addresses climate change in our community. She joined APD in 2011.
Chelsea Paige is an Industrial Organizational Psychology undergraduate of Southern New Hampshire University. She currently works as a People Ops Associate for Donorbox, working on cultivating company culture, fostering employee engagement, and tackling DEIB initiatives. She has lived in the Upper Valley all of her life, and is a Lebanon High School alumni.
About Alice Peck Day Memorial Hospital (APD)
Known for highly personalized and high-quality care, APD is the community hospital of the Upper Valley of Vermont and New Hampshire. Founded in 1932 and a member of Dartmouth Health since 2016, APD's areas of clinical excellence include surgical services, primary care, geriatric care, sleep health, orthopaedics, and emergency services. The APD campus is also home to a senior living community with assisted and independent living facilities. Follow us on Facebook, Instagram, LinkedIn, Twitter, and YouTube.