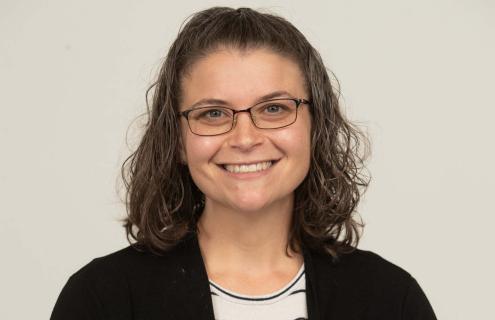 Kristie Foster, RN, BSN, manager/clinical educator in Alice Peck Day Memorial Hospital's Emergency Department, was chosen as a 2023 Excellence in Nursing Award recipient.
"We are delighted Kristie Foster has received this well-deserved Excellence in Nursing recognition. She exemplifies the qualities of excellence in practice, knowledge dissemination, community advocacy, and engagement in the profession of nursing," said Jean Ten Haken, MSN, RN, CENP, Chief Operating/Chief Nursing Officer. "Most of all, Kristie exudes kindness and compassion in all that she does for patients and staff." 
"As an emergency physician and as a CMO, I am fortunate to have the opportunity to work with Kristie clinically and from a management and operational standpoint. She gives equally in both realms and is a role model in both spheres," said Michael Lynch, MD, MBA, Chief Medical Officer. "I am so happy she received this award and recognition. It is well-deserved."
New Hampshire Magazine and the New Hampshire Nurses Association accepted nominations for New Hampshire nurses in 13 specialties from pediatrics and public health to leadership to education. Winners were selected by an independent committee of nursing leaders from around the state. Foster was recognized in the Emergency Nursing category.
"Each nurse represents the very best in nursing — those who go above and beyond to comfort, heal and teach," said Rick Broussard, editor of New Hampshire Magazine. "And their gift for collaboration is clear from the joyous atmosphere of mutual support and celebration that we all experience when the nurses gather to be recognized and awarded."
Foster is a registered nurse with 14 years of hospital and acute care nursing experience. As a nurse manager, she shares the responsibility of the day-to-day operations in the Emergency Department. As a clinical educator and a member of the education team, she works collaboratively to provide up-to-date instruction for current best practice in the hospital.
In 2021, Foster championed the Geriatric ED Accreditation project at APD, leading her organization to the Level II designation in August. She has been instrumental in a number of recent initiatives serving the older adult population, including a call-back program that promotes an effective transition of care after a visit to the emergency department.
She presented the benefits of APD's call-back program in 2022 at the Gerontological Society of America conference and the American College of Emergency Physicians conference. Her work was also featured in Emergency Medicine News in 2023.
Foster has a BSN from University of Massachusetts Boston and is currently pursuing her master's in nursing with a focus on leadership at Franklin Pierce University. She completed FEMA's Healthcare Leadership for Mass Causality Incidents certification in 2022.
She will receive her award on May 18.
About Alice Peck Day Memorial Hospital (APD)
Known for highly personalized and high-quality care, APD is the community hospital of the Upper Valley of Vermont and New Hampshire. Founded in 1932 and a member of the Dartmouth-Hitchcock Health system since 2016, APD's areas of clinical excellence include surgical services, primary care, geriatric care, sleep health, and emergency services. In 2021, APD was one of only three hospitals in NH to receive a fifth star from CMS for its patient quality. The APD campus is also home to a senior living community with assisted and independent living facilities. Please join us on Facebook, Instagram, LinkedIn, Twitter, and YouTube.