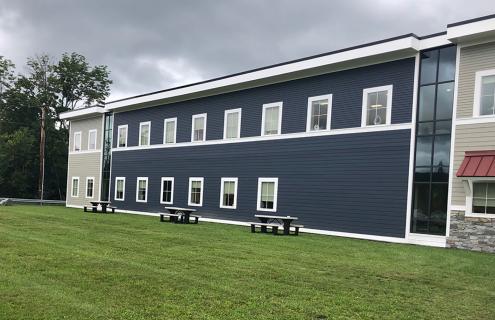 Alice Peck Day Memorial Hospital is pleased to announce the establishment of the Nellie Russell scholarship fund in honor of the former auxilian, volunteer, and donor.
An active member of the community, Nellie volunteered for the APD Auxiliary along with the American Red Cross, the Lebanon Senior Center, and the Lebanon Fire Department Auxiliary. She and her husband Romeo lived near the APD campus on Mascoma Street for 78 years. Following her death in October of 2016 at age 96, the Friends of APD received a $25,000 bequest from her estate.
The Friends of APD earmarked $17,500 to provide scholarships for employee development and education. $7,500 was earmarked to purchase permanent outdoor furniture and planters for the new Multi-Specialty Clinic.
"At APD, we believe that the education and development of our employees is a cornerstone of retention, satisfaction, and workforce advancement," said Brenda Blair, COO at APD. "This generous gift from Nellie has already been put to use for our employees and will sustain those efforts into the future. We are humbled and grateful for her generosity," she added.
"It's the small touches that add up over time and build a community," said Maryann Caron, AVP of Clinic Operations at the APD Multi-Specialty Clinic. "As a non-profit, we greatly benefit from donations. Nellie's gift provides a comfortable space for patients, providers, and employees to rest and enjoy the outdoors. We are grateful for her kindness," she added.
About Alice Peck Day Memorial Hospital (APD)
Known for highly personalized and high-quality care, APD is the community hospital of the Upper Valley of Vermont and New Hampshire. Founded in 1932 and a member of Dartmouth Health since 2016, APD's areas of clinical excellence include surgical services, primary care, geriatric care, sleep health, orthopaedics, and emergency services. The APD campus is also home to a senior living community with assisted and independent living facilities. Follow us on Facebook, Instagram, LinkedIn, Twitter, and YouTube.