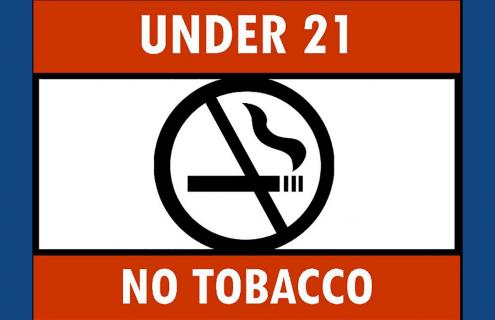 Alice Peck Day Memorial Hospital (APD) successfully concluded its "Tobacco 21" community health initiative on Feb. 5, 2020, when the Lebanon City Council voted unanimously to raise the minimum sales age to 21 years of age for all tobacco products sold in the city.
"Tobacco use is the leading cause of preventable death in the country," said Liz Swanton, community relations and volunteer specialist at APD. "Anything we can do to prevent our youth from using tobacco is worth our effort. This local ordinance will help clarify the federal law for retailers, empower the police department to enforce the law, and ultimately improve the health of the community, which is at the heart of our mission at APD," she added.
APD partnered with Lebanon Police Chief Richard Mello; Susanne Tanski, MD, MPH, a nationally-recognized tobacco expert and pediatrician at Dartmouth-Hitchcock; Angie Raymond Leduc, senior community partnership coordinator at Dartmouth-Hitchcock; and Kate McNally, tobacco treatment coordinator at Dartmouth's and Dartmouth-Hitchcock's Norris Cotton Cancer Center over the past year to collaborate on, and advocate for, Tobacco 21.
The ordinance passed by the Lebanon City Council provides clarity in the enforcement of tobacco sales in Lebanon. Earlier this year, the State of New Hampshire changed the legal age for purchase of tobacco from 18 to 19 years of age. In December 2019, a new federal law changed the minimum age to 21 years. However, because rules regarding enforcement and penalties under the federal law are not expected to be made for another six to nine months, the Division of Enforcement of the New Hampshire Liquor Commission had indicated it was prepared to enforce New Hampshire state law only during this interim period. By raising the tobacco age to 21, the City Council gives authority to the City of Lebanon Police Department to begin enforcing the Tobacco 21 ordinance.
"We're thrilled with this outcome because it enabled a broad community coalition to address a leading cause of premature death in New Hampshire," said Peter Glenshaw, vice president for external affairs. "APD's mission is to improve the health and wellbeing of the community, and the City Council's action takes us one step closer to realizing that future," he said.
Under the tobacco ordinance, sellers found in violation face a $25 fine for a first offense, $50 for a second offense, and a $100 fine for subsequent offenses. Lebanon now joins Dover, Durham, Franklin, Keene, and Newmarket as the six towns or cities in New Hampshire with a Tobacco 21 ordinance.
View information about quitting tobacco.