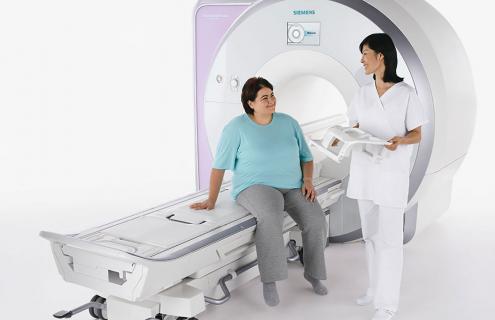 APD has installed the technologically advanced Siemens Magnetom Aera 1.5 Tesla magnetic resonance imaging (MRI) in a newly constructed suite in the main hospital building. The suite opened for patient use on Tuesday, June 18, 2019.
"This machine is one of the final components to the renovation of our radiology department," said Jean Ten Haken, MSN, RN, CENP, Chief Operating Officer, VP of Nursing, and Chief Nursing Officer at APD, "We are thrilled to offer increased MRI capabilities and comfort to our patients, and diagnostic confidence to referring providers," she added.
"This new MRI will allow more advanced imaging, ensuring our patients receive top quality scans while still maintaining the small hospital feel of APD," said Kelli Clifford, Radiology Technologist at APD.
The Aera delivers highly detailed images with exceptional speed and precision. It features a wide bore design to reduce the closed-in, claustrophobic feeling of traditional MRIs. Its shorter length allows patients to keep their heads outside of the system for many exams while the wide shape of the machine allows for scanning of patients of up to 550 pounds.
In addition to being technologically advanced, more comfortable and less constrictive than comparable machines, the Aera MRI experience is also up to 70% quieter and scanning is more efficient, making exams faster and less stressful.
APD offers MRIs from 7:30 am to 5 pm, Monday through Friday. Same-day appointments are often available. Starting in January 2021, expanded MRI hours will be available, from 7:30 am to 7:00 pm. Contact APD's radiology department for scheduling or questions, at (603) 448-7407.