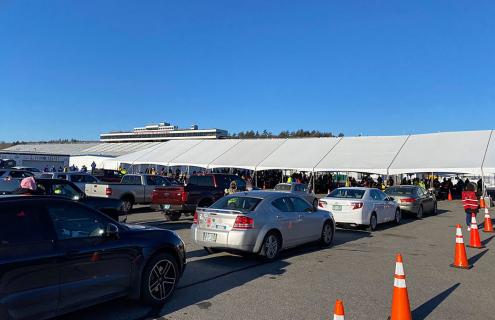 "Thank you for saving my life," one patient said while rolling her car window back up.
It was the best comment Jennifer Tilden heard all morning. As an RN, she has in fact saved lives, but that's not what she was expecting to hear while administrating COVID-19 vaccines at New Hampshire's first mass vaccination event.
When the state announced plans for a "super site" to vaccinate patients against COVID-19 at the New Hampshire Speedway in Loudon, over 1,300 people raised their hand to help. Seven of those raised hands belonged to people who work at APD.
This event helped over 11,000 granite staters receive their vaccine sooner than scheduled, thanks in part to the arrival of the Johnson & Johnson Janssen vaccine.
APD Medical-Surgical nurse Abby Olivier has been on maternity leave since late January. That did not stop her or her husband, who is a nurse at DHMC, from answering this call to help. They took their first "date break" from their 7-week old baby by going to work at the mass vaccination event.
"It was a fantastically rewarding experience," said Anne Tyrol, APD's associate chief nursing officer, who served as a team leader for 23 hours at the 3-day event. "The positive energy was amazing; the high energy was just everywhere. Patients and volunteers were giddy with joy and there was a palpable sense of relief across the Speedway."
"We are just so incredibly fortunate to live and work where we do, to not witness the death and devastation that so many other frontlines have because of COVID-19." Jennifer said. "I was not about to miss my chance to be a part of history, and to help end this pandemic," she added. Jennifer said the process was a well-oiled machine and she vaccinated at least 100 people in her ½-day shift. "The atmosphere under the tent was celebratory. Even though the weather was horribly cold, the wind was blowing our Band-Aids, and at times I had to keep vaccine vials warm in my gloves – still, there were at least two instances where people under the tent learned it was someone's birthday and everyone broke out into the birthday song."
The news media highlighted examples of technical glitches and long wait times. Underreported was the amazing coordination of multiple state and local agencies, the streamlined logistics, and the spectacular communication between everyone from vaccinators to the public information officer, staff support services, temperature screeners, medical screeners, traffic control, runners, and medical observation support.
Anne shared that while the first morning presented some operational challenges, those were to be expected. Eventually, the glitches were corrected, patients experienced short waits, and those working the event caught up quickly.
In health care, we know how to approach a problem together from different vantage points, test solutions, and then replicate the solution that delivers the best outcomes – over and over and over again.
The event was a fantastic illustration of health care's never-give-up culture of caring and that when lives are at stake, we do whatever it takes.
Special thanks go to the APD employees who participated in the mass vaccine event or at local state fixed sites:
Erika Argersingner, PA-C
Shelley Friedman, RN, MSN, MBA, CNML
Michael Lynch, MD, MBA
Fayth McKinney, CMA
Abigail Olivier, RN
Deborah Scott, MD
John Thibodeau (JT), RN, BSN
Jennifer Tilden, RN, MSN
Anne Tyrol, RN, CEN, CPEN