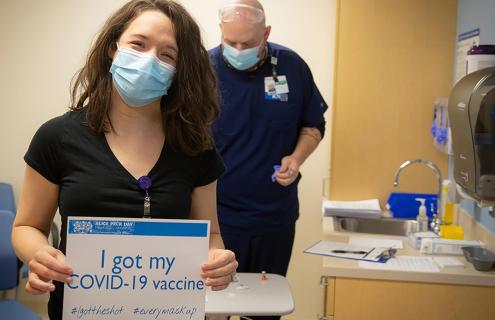 Effective September 30, 2021, Dartmouth-Hitchcock Health (D-HH) will require COVID-19 vaccination of employees as a condition of employment. All employees will be required to submit documentation that they have been fully vaccinated, or to obtain an approved medical or religious exemption through an established process. This includes employees of all health system members such as APD. As with the mandatory flu vaccination policy, employees will be able to submit requests for medical and religious exemptions.
"While the great majority of our employees have been vaccinated, some of our colleagues remain unvaccinated. We take very seriously our obligation to protect the health and well-being of our patients and their families, our community and one another," shared D-HH CEO and President Joanne M. Conroy, MD, at a recent Town Hall meeting for all D-HH employees. "As New Hampshire's largest provider of health care and the state's largest private employer, we must lead by example in the arena of public health."
The requirement for COVID-19 vaccination will apply to all D-HH employees, including employees working remotely and per diem employees. Vaccinations for remote and per diem employees are required because it is anticipated that they will, from time to time, access D-HH facilities and sites to participate in required meetings, programs and activities.
"There has been enormous progress in controlling the spread of COVID-19 since the introduction of vaccines late last year, and D-HH is committed to seeing this process through to the end," said Conroy in announcing the requirement to employees today. "I'm thankful to those who have already been vaccinated, and for those who have not, I thank you in advance for taking this very important step to help keep our patients, our community and each other, safe from the virus."
The highly contagious Delta variant is causing new outbreaks across the region, nation and around the world, and Centers for Disease Control and Prevention Director Rochelle Walensky, MD, recently referred to the pandemic as "a pandemic of the unvaccinated."
Data and science clearly support the benefits of vaccination. The vaccines currently in use were authorized for emergency use by the federal Food and Drug Administration on the basis of trials which demonstrated the safety and effectiveness of the vaccines. Over the past several months since emergency use authorization, the data has continued to make clear that the vaccines are safe and highly effective at reducing the risk of infection, serious illness and death from COVID-19.
Dartmouth-Hitchcock Health, with approximately 13,000 employees, includes Dartmouth-Hitchcock Medical Center, Norris Cotton Cancer Center, Children's Hospital at Dartmouth-Hitchcock, Alice Peck Day Memorial Hospital, Cheshire Medical Center, New London Hospital, Mt. Ascutney Hospital and Health Center, Visiting Nurse and Hospice for Vermont and New Hampshire and 24 Dartmouth-Hitchcock multi-specialty clinics that provide ambulatory services across New Hampshire and Vermont.
View the video statement below from Dr. Conroy on D-HH's vaccine requirement.