Photography by

Mark Washburn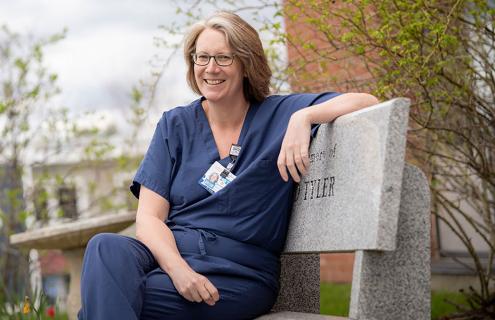 Jennifer Tilden, RN, MSN, has accepted the role of Surgical Services Nurse Educator at APD, effective May 12, 2020.
In this role, she supports professional practice and clinical excellence in the operating theatre and perioperative areas. She continues to lead the Personal Protective Equipment (PPE) team.
"I'm thrilled that Jennifer has taken on this crucial role at APD," said Tilden's supervisor, Anne Tyrol, RN, CEN, CPEN, the Associate Chief Nursing Officer at APD. "Jennifer brings a wealth of perioperative and ambulatory knowledge to this position. Her willingness to share her expertise and to continuously educate our frontlines will support APD's commitment to providing exceptional patient care and our mission to improve the health and wellbeing of the community," she added.
"I'm overjoyed to assume the perioperative nurse educator role for our special patient-centered community hospital," Tilden said. "I look forward to working closely with nursing leadership and our frontlines to keep our skills strong and continue delivering the highest-quality personalized health care we can," she added.
Tilden has been with APD since 1997, earned her MSN in nursing education at Franklin Pierce University, and lives in Orford, NH.