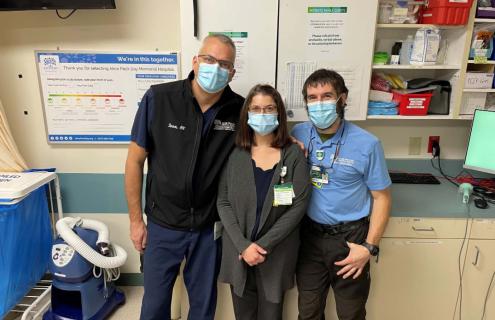 Alice Peck Day Memorial Hospital's Emergency Department (ED) is providing a much-needed service for area seniors: a call-back program.
In 2022, almost 9,000 patients visited APD's Emergency Department. About 23% were seniors.
"APD's Multi-Specialty Clinic receives notification when a patient has been in our emergency department," said Kristie Foster, RN, BSN, Emergency Department manager/clinical educator. "But when patients come from all over the Upper Valley, it may be impossible to find and notify each primary care provider. How do we provide that service for patients, especially those outside APD primary care?"
Foster developed criteria to focus on the patients who might need a follow-up call more than others: age 70 and older, discharged (not admitted or transferred) from the ED, and does not have a primary care provider at APD.
The main goal: to see how the patient is doing 24 to 48 hours after the ED visit: Did the patient understand what happened in the emergency department (as it can be overwhelming and chaotic)? Did they get the medication they needed? Do they want help with anything else, such as a referral?
Emergency department nurses also connect patients to community resources, such as the DHMC's Aging Resource Center, which provides education and resources to patients and their families, or refer patients in the Lebanon area to the Mobile Integrated Health program.
Not only does this effort ensure APD meets the metrics needed for level 2 Geriatric Emergency Department Accreditation (GEDA) certification, it helps prevent ED revisits and reduce hospital readmissions.
"Nurse-led outreach promotes an effective transition of care, confirming patients understand next steps and have the resources follow through with care recommendations," said Foster.
The call-back program has resulted in numerous referrals to APD's primary care clinic. "Within the first month, 13 patients were referred to us because of our kindness and compassion," Foster said. "We are treating patients the way they want to be treated."
APD is leading by example: other healthcare organizations have been inspired to create similar programs.
"APD is so community centric," Foster said. "We want to make sure everyone has the best possible care. That's what we all deserve."
The Geriatric Emergency Department Initiative at Alice Peck Day Memorial Hospital is made possible through the generosity of the Gary and Mary West Health Institute. 
Click here to read an article about APD's call back program in the January 2023 issue of Emergency Medicine News.
About Alice Peck Day Memorial Hospital (APD)
Known for highly personalized and high-quality care, APD is the community hospital of the Upper Valley of Vermont and New Hampshire. Founded in 1932 and a member of Dartmouth Health since 2016, APD's areas of clinical excellence include surgical services, primary care, geriatric care, sleep health, orthopaedics, and emergency services. The APD campus is also home to a senior living community with assisted and independent living facilities. Follow us on Facebook, Instagram, LinkedIn, Twitter, and YouTube.