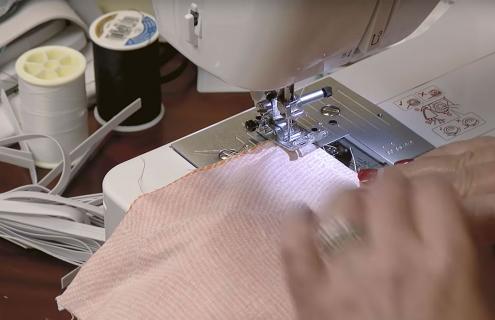 A generous way to increase our inventory of Personal Protective Equipment (PPE) is to join the national movement of volunteers who sew masks. This effort is in response to the Center for Disease Control's guidance that fabric masks are a crisis response option when other supplies have been exhausted.
Below is general guidance for those who wish to participate and help by sewing masks for donation.
Important infection prevention
Before starting to sew, please ask yourself the following questions:
Have you been in contact with anyone suspected or confirmed to have COVID-19 in the past 14 days?
Do you have fever, cough, or shortness of breath?
If you are able to answer "NO" to both questions, please feel free to make your mask(s).
If you answer "YES" to either or both questions, please do not make masks. If you are experiencing cough, fever, or shortness of breath and have a concern that you may have COVID-19, please call your primary care provider for a risk assessment and review our COVID-19 resources.
Materials and instructions for masks
Materials
100% unused cotton fabric for the front – no metallic fabrics please
100% cotton or cotton flannel for the back
1/8", 1/4", or 3/8" flat elastic, or 1/4" inch bias tape
Instructions
If you would prefer written instructions, please download our guide How to Make a Face Mask (PDF).
Dropping off masks
Masks should be dropped off in resealable plastic bags. You may mail your donations to APD or drop them off between 7 am and 3 pm weekdays at the Hospital's "RECEIVING" door in the lower level of the Main Hospital, shown on the map below in red. Please look for the mask drop off sign and ring the bell at the receiving door.
Mailing address for masks
Materials Management: MASKS
10 Alice Peck Day Drive
Lebanon, NH 03766
Thank you in advance.