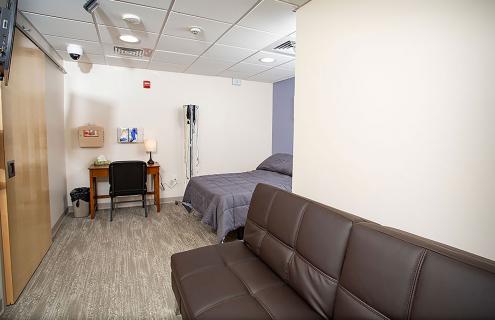 Alice Peck Day's (APD) sleep health center is pleased to receive program accreditation by the American Academy of Sleep Medicine. APD started welcoming patients in the newly constructed Sleep Health Center on October 12, 2020, and received accreditation on March 12, 2021.
"The entire Sleep Health team is thrilled to receive this recognition," said Maryann Caron, MPH, associate vice president of operations at APD. "This affirms our commitment to meeting patient-safety standards and delivering high-quality sleep health care to our community in the new sleep health clinic," she added.
To receive and maintain accreditation for a five-year period, a sleep center must meet or exceed all standards for professional health care as designated by the AASM. These standards address core areas such as personnel, facility and equipment, policies and procedures, data acquisition, patient care, and quality assurance.
The sleep health center at APD offers treatment for:
Insomnia
Sleep apnea
Sleep disordered breathing
Restless legs syndrome and periodic limb movement disorder
Narcolepsy
Sleepwalking and other disturbances
Sleep disorders in children
The space has:
Two bedrooms with ensuite bathrooms and sleeper sofas for caregivers or parents
State-of-the-art testing capabilities
Convenient parking and location
Location
The APD Sleep Health Center is located at the Robert A. Mesropian Center for Community Care, 5 Alice Peck Day Drive in Lebanon, NH. Please call (603) 448-7436 for more information.
About Alice Peck Day Memorial Hospital (APD)
Known for highly personalized and high-quality care, APD is the community hospital of the Upper Valley of Vermont and New Hampshire. Founded in 1932 and a member of the Dartmouth-Hitchcock Health system since 2016, APD's areas of clinical excellence include surgical services, primary care, geriatric care, sleep health, and emergency services. In 2021, APD was one of only three hospitals in NH to receive a fifth star from CMS for its patient quality. The APD campus is also home to a senior living community with assisted and independent living facilities. Please join us on Facebook, Instagram, LinkedIn, Twitter, and YouTube.