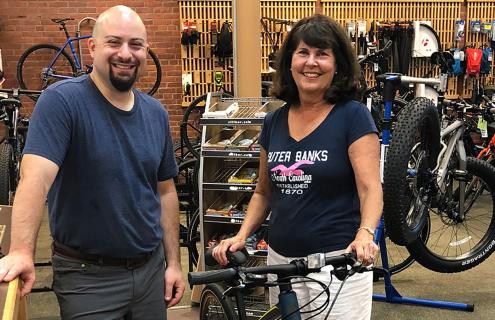 APD recently announced two winners in the Mascoma River Greenway (MRG) Bike Giveaway Sweepstakes. APD held the sweepstakes to celebrate the grand opening of the MRG and to encourage healthy and active use of local trails.
Patients and visitors to APD's Multi-Specialty Clinic could enter to win the sweepstakes during the first two weeks of July. Pediatrician Dr. Laura Greer picked winners Karen Currier of West Lebanon, NH, and Anna Balch of East Thetford, VT, from the 249 entries during the MRG grand opening celebration.
Currier and Balch were fit with their new bikes at Omer and Bob's in Lebanon earlier this month.
Balch, a longtime patient of APD, says her grandson is very excited for her to ride with him. For a woman whose past includes a stay in intensive care battling viral encephalitis and subsequent years of physical therapy, Currier said, "I have such a nice feeling of newness, gratitude, and triumph – a new bike just says it all!" She added, "Thanks to APD for giving me a safe and fun way to celebrate being active and alive."
The grand opening was hosted at APD and presented by Lebanon Recreation and Parks and the Mascoma River Greenway Coalition on July 17, 2018. Events included remarks by the Mayor of Lebanon, Suzanne Prentiss, followed by guided tours of the trail with historians, naturalists, cyclists, and trail experts. Participants also enjoyed free bike safety checks with Omer and Bob's and ice cream with the Lebanon Police Department.