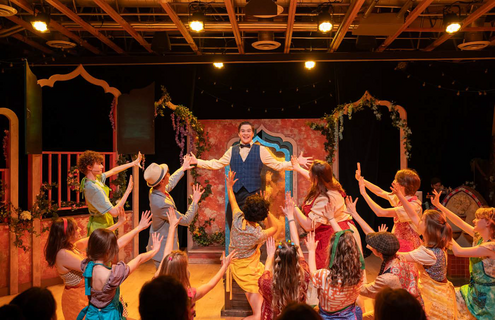 Northern Stage is changing lives, one story at a time. Alice Peck Day Memorial Hospital is building a healthier community, one connection at a time. It's a partnership that prompts patrons to clap before the show begins.
"We proudly acknowledge APD in every single curtain speech, before every single performance, and our partnership always gets a round of applause," said Jason Smoller, Managing Director of Northern Stage. "We hear from our patrons how glad they are to know of this relationship."
Most folks are familiar with Northern Stage's world-class theatrical productions, but the Vermont-based nonprofit also offers extensive educational and outreach programs to children and adults. 
"We offer robust educational programs throughout our community, with opportunities for kids ages 6 to 18 to participate in theater classes. Our largest educational program is BridgeUP, which sends Northern Stage teaching artists into 11 classrooms in schools in the region for sustained Shakespeare-based courses," Smoller said. "At the end of the residencies, students put on abridged versions of Shakespeare classics in their schools and on the main stage at the Barrette Center for the Arts in White River Junction."
In an average year, more than 35,000 ticketholders come through the doors at Northern Stage. But ticket sales cover less than 45% of the cost of putting on programs, making donations and sponsorships essential.
"Since the pandemic, the cost of labor and materials has skyrocketed, making our already precarious financial model more difficult. Support from our community, and sponsorships like our partnership with APD, are ever more critical to performing arts institutions' ability to succeed," Smoller said. "Northern Stage is tremendously grateful for the incredible community support we receive, and proud that APD is our season sponsor for the sixth year in a row."
In addition to sponsorship support, APD helped Northern Stage navigate the pandemic. "We have been enormously grateful for guidance and advice from APD," Smoller said. "In the event of workplace injuries, we always bring staff to the Emergency Department at APD and we have always felt well cared for and well-informed. Our relationship is a true, 360-degree investment by both parties, and we are grateful to have such a thoughtful and caring season sponsor."
Northern Stage's 2023-2024 season features four world-class productions on the mainstage and is rounded out by two full-scale productions starring students in the Youth Ensemble Studio, YES Next Stage, and Boot Camp programs.
"This year's season is exciting and accessible, and you can be guaranteed a great night at the theater. Tickets start at $19 for students of all ages. We offer pay-what-you-can preview performances, where every ticket is available for a suggested donation of $5 or more," Smoller said. "Northern Stage is for everyone, and we invite everyone to join the party!"