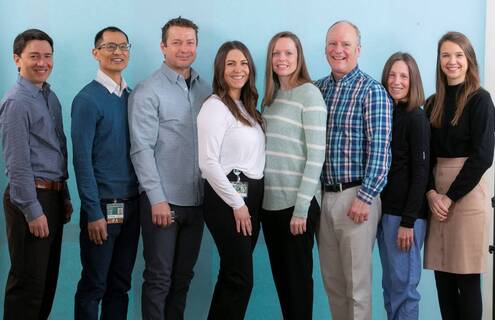 Alice Peck Day Memorial Hospital has been named by U.S. News & World Report to its 2023-2024 Best Hospitals as a High Performing hospital for Hip Replacement. This is the highest distinction a hospital can earn for U.S. News' Best Hospitals Procedures & Conditions ratings.
"The orthopedic surgeons and staff at APD have built a strong reputation throughout Vermont and New Hampshire for high-quality, personalized care with excellent outcomes and a low complication rate," said Sue Mooney, MD, MS, FACOG, President and CEO of Alice Peck Day Memorial Hospital. "We are honored to be one of the 570 hospitals in the nation to be recognized for our skill and expertise in hip replacements."
A hospital's hip replacement score is based on multiple data categories, including prevention of revision surgery, volume and more. More than 6,000 hospitals were evaluated and eligible hospitals received one of three ratings -- high performing (570 hospitals), average (1,493 hospitals) or below average (573 hospitals) with the balance either not offering the service or performing too few of the procedures to be rated. Hospitals that earned a high performing rating, like Alice Peck Day Memorial Hospital, were significantly better than the national average.
U.S. News evaluated more than 4,500 hospitals across 15 specialties and 21 procedures and conditions. Hospitals awarded a "Best" designation excelled at factors such as clinical outcomes, level of nursing care, and patient experience.
"For 34 years, U.S. News has provided data-informed rankings to help patients and their doctors find the best hospital to treat their illness or condition," said Ben Harder, chief of health analysis and managing editor at U.S. News. "Fewer than half of evaluated hospitals earned any High Performing rating. Hospitals that are High Performing have excelled in providing high-quality care in specific procedures and/or conditions."
About U.S. News & World Report
U.S. News & World Report is the global leader in quality rankings that empower consumers, business leaders, and policy officials to make better, more informed decisions about important issues affecting their lives and communities. A multifaceted digital media company with Education, Health, Money, Travel, Cars, News, Real Estate, Careers and 360 Reviews platforms, U.S. News provides rankings, independent reporting, data journalism, consumer advice, and U.S. News Live events. More than 40 million people visit USNews.com each month for research and guidance. Founded in 1933, U.S. News is headquartered in Washington, D.C.