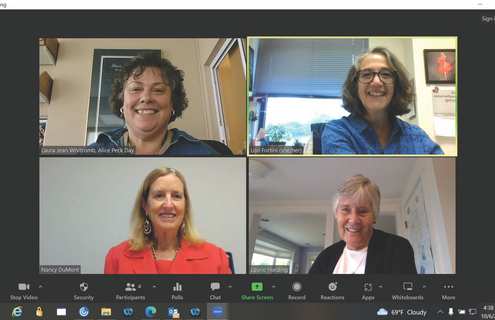 Advance directives make it clear what people wish for in terms of treatment when they are in a hospital or hospice. But how do providers identify advance directives when a person is not in a healthcare setting? For example, how will an EMT be alerted to advanced directives in someone's home?
It's one of the many topics hosted by Elder Forum, a monthly networking and educational discussion for health and human services organizations focused on older adults.
"Elder Forum is a great way to meet other professionals working with older adults and learn about issues and trends in the field of geriatrics," said Lori Fortini, Med, Program Leader, Dartmouth Health Aging Resource Center and Elder Forum technical advisor.
The Latest in Care
Once a month — the second Friday of the month — healthcare professionals and social service providers from across the twin states dial in to hear the latest in elder care.
"Our participants include adult protective services, doctors, nurses, lawyers, health initiatives, providers, development directors, health community foundations, and assisted living and nursing homes," said Nancy DuMont, administrative assistant at BAYADA Home Health Care and administrative director of Elder Forum.
Topics have ranged from dementia, palliative care, geriatric care in the emergency room, and the impact of the healthcare workforce shortage.
"Forty five people attended the staffing crisis forum in February," said Laurie Harding, MS, RN, one of the founders of the Upper Valley Community Nurse Project (now Community Nurse Connection) and the program director for Elder Forum. "It was a glimpse into the struggles experienced by everyone caring for people, no matter the setting: long waits to see clinicians, not enough people to answer the phones, shortages in the kitchen, the closing of beds in long-term care facilities, 'burned out' staff, not enough for ambulance drivers to do hospital transfers, etc. People were very eager to share their experiences and support each other."
More than a Decade
About 12 years ago, Harding, Dennis McCullough, MD, and DuMont, the former director of community health at APD, were concerned about services for older adults in the Upper Valley and met in person at 7 am in the Department of Community and Family Medicine at DHMC. The meeting later moved to the Dwinell conference room on the APD Lifecare campus.
"We balanced the early morning meeting time with a hot breakfast, provided by the Harvest Hill staff, and time to network," Harding said.
When COVID hit, the forum went virtual and moved to a later time: 8 am.
"When Elder Forum went virtual, we gained participants. It was easier for people to be at work and log in for an hour," Harding said. "But we lost the networking and social time."
Today, the ad hoc group managing Elder Forum is made up of longtime healthcare professionals, including DuMont, Harding, and Fortini. APD hosts the meetings and provides administrative support.
"What is fun and interesting about the Elder Forum group is that we all are in the same room — or same Zoom — talking about the same issues," Harding said. "We all work for different organizations, but during Elder Forum we're in a learning and resource sharing environment. We are all trying to find better ways to serve older adults."
"Elder Forum is important to me both professionally and personally. From a work standpoint, our monthly meetings provide me an opportunity to stay abreast of what's impacting our hospice client population so I can keep our staff updated," DuMont said. "From a personal perspective, my mother lives with me so I'm always keeping my ear out for events or trends to help her age gracefully in my home."
Elder Forum is open to anyone working for health and human services organizations focused on older adults. To be added to the email notification list, please send your name, title, and organization to marketing@apdmh.org