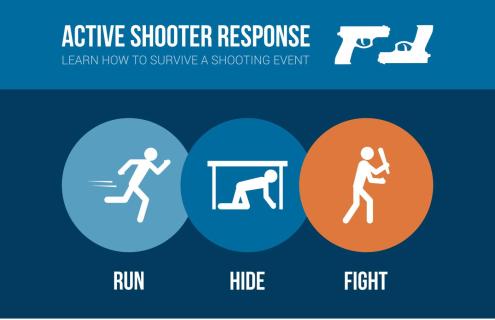 Do you know what to do if you're in an area with an active shooter? Alice Peck Day Memorial Hospital employees learned basic safety measures during a 1½-hour course with David Luther, AVADE Workplace Violence Prevention Program Coordinator at Dartmouth Health.
Active shooter is an individual actively engaged in killing or attempting to kill people in a confined and populated area. According to the FBI, there were 61 active shooter incidents in 2021 and, fortunately, none took place in New Hampshire or Vermont.
"It's not to say it's never going to happen, but it might," Luther said. '"What do you do if something happens at work or out in the world?"
Real-life Experience
Luther — a former police officer in Maine, Massachusetts, and New Hampshire — has been teaching active shooter and response training classes at Dartmouth Health since 2015. He, like many, remembers the active shooting incident at DHMC in 2017 when a son shot his mother in the ICU.
Jessica Bean, a medical assistant in Primary Care at APD, was working at DHMC at the time. "We thought it was a drill. We did not hear a gunshot. Then the SWAT team came and we said, 'Oh, this is real,'" she said.
"Law enforcement didn't even know it was an isolated incident. We just knew it was an active shooter and it was appropriately called in as an active shooter until the facts came out," Luther said.
What to Do
When you hear the code "active shooter," Luther explains what you should do: avoid, hide, fight.
"'Avoid' used to be run, but running can cause harm," Luther said. "But if you can get out, do it. Help others but don't let it slow you down. You need to survive the day. You can't always get others to run. Know your area and have multiple escape plans."
He suggests leaving your belongings behind but taking your cell phone if it is handy. At the DHMC active shooter incident, "we were still pulling people out of closets at 8:30 at night. That's where a cell phone comes in handy," he said.
If there isn't a clear escape route, the next step is to hide. "Turn out the lights. Turn off your cell phone. Find a room that locks if you can. Blockade door — and stay away from door," Luther said.
He suggests not just hiding, but finding cover — a hiding spot with protection from gunfire.
The last option: fight. But don't do it alone. "Make a plan with others. Survival depends on having a plan and committing to it," he said.
At APD
APD has an active shooter policy — to call 911 and alert security — and pages active shooter alerts overhead in the hospital. Duress alarms, wireless security and emergency notification systems, have been installed throughout the hospital and will be later implemented across the APD campus. Follow-up classes practicing hands-on approaches and simulated drills are planned.
"Active shooter training is a comprehensive training that can potentially help mitigate harm in an active shooter event," said Nicole Woods, Operations Support Manager, Quality and Safety. "It also shows that we care about our employees, patients, and visitors, and training our staff to all have a maintained level of baseline training in active shooter awareness could help play an integral role in a real life event."