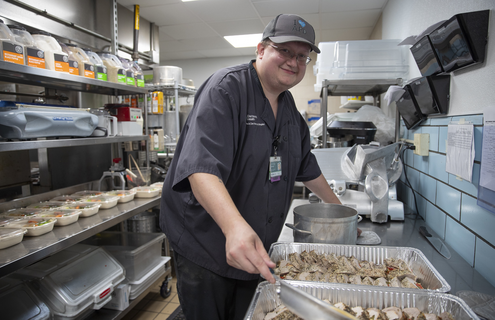 When the Upper Valley Senior Center in Lebanon found themselves without a cook a few months ago, APD's nutrition team found a win-win solution. According to Shawn Richardson, Director of Food and Nutrition Services and Environmental Services, Alice's Café often has leftovers that are perfect for freezing and reheating.
"We now supply the Senior Center with about 1-6 pans of 20 portions each, twice each week. It's helped them immensely," said Richardson.
"APD provides us with a nice variety of homemade food that we couldn't produce ourselves in house," said Director Jill Vahey. "Shawn and Luis are incredibly accommodating. They're always ready for me when I arrive. I really appreciate the APD team."
The nutrition team also supplies LISTEN Community Center with approximately 50 pounds of leftovers, such as frozen, individual cups of soup, every week. "The portions are included in LISTEN's food bags," said Richardson. "People can pick what they want. It's been very popular."
The LISTEN staff agrees. "Many of the bowls go to seniors who have difficulty cooking meals or to people living in hotels with only a microwave for cooking," said Valerie Thompson, LISTEN Food Pantry Manager. "Our customers love and appreciate them. Many customers ask when we'll be getting more. It is so nice to provide people with this good quality food."
Luis Gomez, Executive Chef, and Chris Hicks, Café Lead, have been instrumental in maintaining these programs with the support of the entire APD nutrition team.
Why is this a win-win?
"These are leftovers we would otherwise discard, so we're getting nutritious food to those who wouldn't have it otherwise, while keeping food out of the landfill," said Richardson. "It's a way for us to help the community and reduce waste. It seems like the right thing to do!"