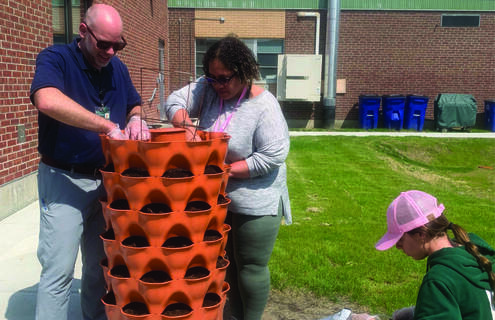 APD's Nutrition Service team has launched its summer growing season. The courtyard garden features four towers, each dedicated to a different type of produce: herbs and vegetables; peppers; salad components; and salsa ingredients. Each tower holds up to 50 plants, maximizing vertical space while making sure each plant gets the sun and water it needs.
Nutrition Services uses the homegrown herbs and vegetables to prepare delicious, healthy meals for patients, visitors, and employees.
"People love our ingredients not only because they're grown here, but also because our garden yields so many different colors, like yellow tomatoes and purple peppers," said Shawn Richardson, Director of Food and Nutrition Services and Environmental Services. "It's not just run of the mill."
The towers are wheeled inside in the winter, then brought outside again in the spring. Each year, they reuse the same soil.
Inside the towers, Richardson makes use of vermicomposting, or composting with worms. Vegetable scraps from the kitchen are placed inside the towers a few times each week. Worms can transform most kitchen scraps into rich, finished compost in less than two weeks. The compost adds to the soil inside the towers, works better than store-bought fertilizer, and cuts down on waste sent to landfills.
The worms continue working and making compost through the winter months.
 "Miss Vicky's Garden," as the garden is known, was named in honor of beloved, longtime APD employee Vicki Apagio, now deceased. Stop by the courtyard this summer to see the garden grow, and visit Alice's Café to enjoy meals using homegrown herbs and vegetables.