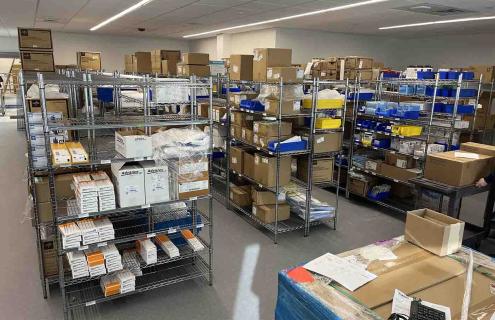 APD's new addition: modern, safe, and looking to the future
APD recently completed construction of a 5,600-square-foot addition that makes space for a new Materials Management warehouse as well as a larger and modern Central Sterilization department.
Both materials management and central sterilization are important functions for hospitals with a significant surgical program like APD. Here's a closer look at the role of these departments and the upgrades.
Materials Management
The Materials Management department makes sure all needed supplies are available and inventories are up-to-date so hospital operations can occur smoothly. They source materials meeting the right criteria for delivery, timeliness, quantity, quality, and cost.
Central Sterile
Central Sterile ensures devices, instruments, and equipment used in medical procedures are properly cleaned, sterilized, and organized. Instruments often come from the operating room and arrive at a decontamination area to be manually cleaned. They are placed in an ultrasonic cleaner or sonic irrigator, and then into a washer/disinfector for cleaning. The instruments are transported to a prep and pack area to be prepared for sterilization. Once sterilized, the instruments can either be used again in the procedure room, or placed in central sterile storage until needed again. 
Efficient and safe
Our new addition includes a modern, secure, and larger materials management space that is closer to our operating rooms. That means our surgical teams, and all of APD, will receive the materials they need, when needed, efficiently and safely. The space also includes a new loading dock for deliveries, located off our campus' main road and out of the main flow of traffic. This makes APD a safer place for the residents, patients, visitors, employees, and community members who walk on our campus.
Our new central sterile department has expanded, modernized, dedicated work and storage space, including a segregated decontamination area. This location doubles the amount of sink space and adds new washers and a drying cabinet.
APD currently has three operating rooms. Our improved central sterile could allow the addition of a fourth operating room so more patients can benefit from the great care of our surgical teams.
The new addition was designed by Jennifer Arbuckle, AIA, NCARB, LEED AP of Environments for Health (E4H). Arbuckle also designed APD's Short Stay Unit.