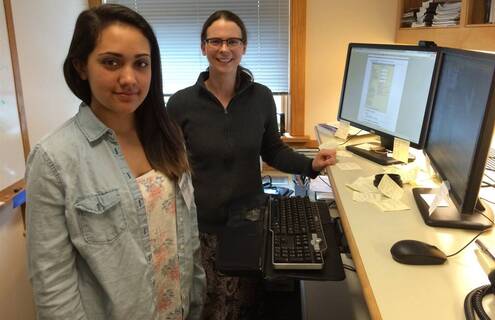 What do you want to be when you grow up? It's a question your parents or an elementary school teacher might have asked you. And you may have had an answer — doctor, fireman, ballerina, movie star — or perhaps you hadn't thought about your future career yet.
Here in the Upper Valley, nonprofit Careers CLiC is helping young people formulate their career plans as their interests evolve. While the organization guides K-12 students, one area of focus is to provide career exploration activities for middle school students.         
"Talking to middle schoolers about career development is important because it is a formative stage when they are curious, open to new experiences, and eager to connect with community members," said Lorin Durand, Program Manager. "Early conversations about jobs and careers inspire learning, foster goal setting, and support the transition to high school."
Careers CLiC has a long history of connecting schools with local employers. In fact, the organization has matched 27,994 students from 355 schools with 1,612 workplaces over 24 years. Opportunities range from job shadowing and workplace tours to in-school activities or guest speaker possibilities.
"Classroom visits are an example of an in-school activity," Durand said. "Classroom visitors leave a lasting impression on students and often lay the foundation for further exploration in the representative career field or industry."
A visit helps the teachers, too. "Educators learn about the skills needed in the workplace and use that knowledge to inform their curriculum planning. Schools may focus on careers that align with academic subjects or select from various business sectors," Durand said.
Alice Peck Day Memorial Hospital has hosted 8th-grade students and featured careers in nursing, physical therapy, and radiology. APD also hosted an annual Job Shadow Day Breakfast, a training session led by Careers CLiC staff, and welcomed 30 to 40 area organizations to the APD campus.
Careers CLiC encourages employers from all sectors to get involved in youth career development. The newest resource, The Middle School Career Exploration Guide, will be rolled out to sixth- to eighth-graders in New Hampshire and Vermont during the 2023-2024 school year.
"In 2023, APD joined 35 donors to contribute to the project and unlocked a $20,000 matching grant from the Jack and Dorothy Byrne Foundation. During the project's next phase, partners interested in donating are encouraged to give to our general fund, which will support K–12 career development programs for students, educators and employers," Durand said.
And when the question changes to "What are you plans after high school?" Careers CLiC is still there to help students.
"Students gain insight into their unique interests and strengths, draw connections between education and the workplace, and explore career pathways. This knowledge allows them to make informed decisions for their future planning and set post-high school goals," Durand said.