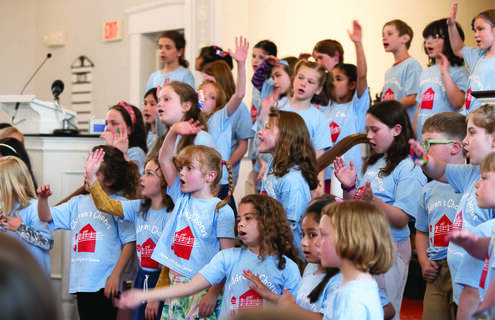 Did you know the Upper Valley Music Center (UVMC) is the only community music school serving the Upper Valley region? And Alice Peck Day Memorial Hospital is a proud sponsor of several UVMC free, public events?
In 2018, UVMC's capital campaign and an event sponsorship opportunity caught APD's eye: Sing & Play 50k.
"This musical marathon featured 50,000 seconds of music in support of music education. The event raised $100,000 from more than 1,000 donors, but most importantly it created a day to celebrate music making by and for each other," said Erin Jenkins Smith, Assistant Director. "In the years since UVMC has hosted a Sing & Play Festival each spring with hundreds of performers and participants sharing music with the community." 
APD also sponsors UVMC's annual Holiday Music Festival, which includes recitals, caroling at Lebanon's tree lighting ceremony, and music classes in the community.
"Our 2022 festival was a big success with more than 175 performers and 750-plus audience members enjoying the festivities," said Benjamin Van Vliet, Executive Director. "The program is critical to helping UVMC achieve its mission to provide high-quality music education to the Upper Valley community and expand accessibility by welcoming people with a range of free programs."
Annual events are one of the ways UVMC celebrates, shares, and informs the Upper Valley community about the importance of music.
"Music education at Upper Valley Music Center is more than just notes and rhythms. For more than 1,000 participants each year and over 3,000 audience members, music education means community, collaboration, excellence, relationships, and character," Smith said. "All kinds of people make all kinds of music through weekly programs."
Research has demonstrated the benefits of group music-making, including positive impacts on physical, social, and emotional well-being. Group programming helps people make and maintain friendships, and social interaction is a feature of many of UVMC's programs.
Sponsorship plays a key role, making it possible for the Lebanon-based nonprofit to offer events and programs free for the community. It also helps UVMC make music education programs more accessible to the community by supporting partnerships with organizations like Waypoint and the Grafton County Senior Citizens Council. In addition, UVMC offers more than $30,000 in Tuition Assistance awards each year.
"Alice Peck Day Memorial Hospital has been a stalwart supporter of music education in the community," Smith said. "We believe music has so many benefits for our health, and we're glad that APD feels the same way. Visitors are always welcome to visit us and make music with us!"