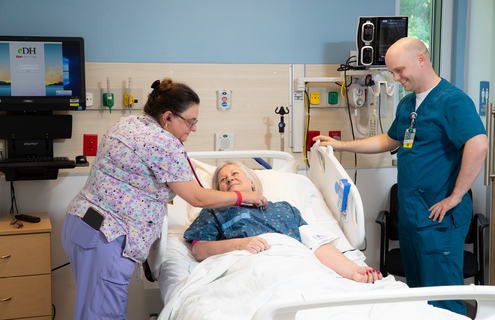 A patient's care experience starts the moment they choose Alice Peck Day Memorial Hospital. And the Care Experience team is on hand whenever a patient wants to share compliments or complaints about the quality of care and services at APD.
Care Experience, formerly known as Patient Relations, ensures APD is consistently providing high-quality, equitable, and respectful patient-centered care.
"We are here to listen to your experiences. We appreciate all types of feedback and can learn from positive and constructive feedback," said Erica Thomas, RT(R), RDMS, RVT, Care Experience Program Manager for Quality and Patient Safety at APD. "Alice Peck Day is committed to hearing patient's voices and using that feedback to improve."
"We learn from the feedback we receive and are open to improving and adapting to provide a great experience," said Amy Desmond, MS, MLS (ASCP), Associate Vice President of Quality, Patient Safety, Risk and Compliance at APD.
Two employees operate the email and phone line, but the team is really made up of everyone at APD.
"Every employee plays a role in the Care Experience," Thomas said. "The team is diverse as multiple departments are included throughout every investigation."
The goal: understanding the healthcare experience through the lens of APD's patients. Thomas provides an example.
"We received feedback about a process regarding scheduling in the operating room and were able to come up with a less confusing process for patients," she said. "We couldn't have done it without patients taking the time to let us know what they are experiencing on their end." 
The idea of involving patients and their families in healthcare decision making has become a cornerstone in the patient experience. Thomas and Desmond believe this idea will be even more engrained in our healthcare system as time goes on.
No matter when you visited APD, there's no time limit to providing feedback.
"Your feedback is extremely important to us and we want to hear from you," Desmond said.
Learn more at https://www.alicepeckday.org/patients/patient-relations