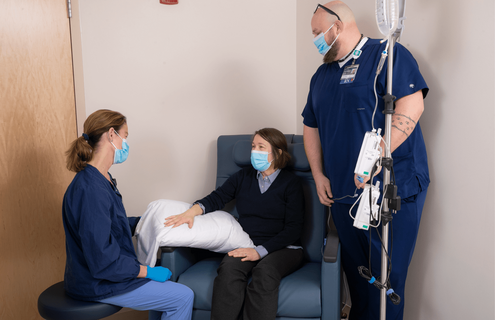 It was late in the afternoon when a primary care physician called APD's Infusion Clinic on behalf of a patient who needed antibiotics. "Is it too late for a patient to come in?" she asked. John "JT" Thibodeau Jr., BSN, RN, answered, "It is, but how about first thing tomorrow morning?"
"APD providers find our clinic easily accessible to treat patients that may need antibiotic therapy for a post-op wound infections, iron for acute and chronic anemia, or hydration and/or electrolytes for chronic conditions like electrolyte imbalances and migraines," said Ellen Shaw, BSN, RN. "Our clinic creates access for patients. We are able to schedule and initiate treatment in a timely manner."
Infusion Clinic
APD's Infusion Clinic is now offering intravenous immunoglobulin (IVIG) infusions — a pooled antibody used to normalize a compromised immune system — and blood transfusions, donated blood or blood components given through an IV if a patient has lost blood due to an injury, during surgery, or has certain medical conditions.
Additional infusion therapies and injections provided at APD include:
Antibiotics
Bisphosphonates: Reclast (Zoledronic Acid) and Prolia
Hydration and electrolyte replacement 
Iron Sucrose (Venofer)
Xolair
The Infusion Clinic is a new addition to APD's Multi-Specialty Clinic. Opening just over a year ago in July 2022, it has already made a difference for hundreds of patients who require intravenous medications, injections, frequent lab testing through PICC lines, sterile dressing changes for PICC lines, or need to access implanted ports for infusions.  
"The Infusion Clinic keeps your care here at APD," said Thibodeau, clinical manager of Orthopaedics, Surgical Specialties, Occupational Health, and the Infusion Clinic. "Our team has quick access to your information and to your providers. We know each other and work collaboratively every day."
Shaw provides an example. "If a patient requires IV hydration or their potassium is low, we can provide them with the treatment needed," she said. "It is convenient for our primary care providers to have an infusion clinic on the APD campus. We are able to keep our patients here, and they love it here."
Vicki Bazemore has been a patient of APD's Infusion Clinic since December 2022.
"She was receiving an infusion twice a week," Thibodeau said. "We worked with Vicki and her provider to make her healthcare wishes — fewer visits to the Infusion Clinic — come true. She had a PICC line placed for long-term therapy, which eliminated inserting a peripheral IV twice a week. We were also able to advocate on her behalf, reducing her infusions to once a week. We look forward to seeing her. She is a part of our clinic, like family."
"Everyone is super friendly and super helpful at APD's Infusion Clinic," said Vicki Bazemore, a West Hartford, Vermont, resident who visits the clinic once a week. "The team brings you snacks and water, and checks on you frequently. It couldn't be a better atmosphere. Ellen and JT have even called me at home to check on me. Both make me feel well cared for."
The Infusion Clinic offers decades of nursing expertise in a healthcare setting based on a culture of kindness. "We provide warm blankets, snacks, televisions, and reclining chairs with massage and heating features," Thibodeau said. "We make it as comfortable for patients as possible, providing them with a relaxing environment for rest while receiving their infusion."
Patients are one on one with their nurse, who gets to know them personally.
"This helps create a meaningful experience as most of our patients' treatments require multiple visits. We are able to take our time with our patients. They don't feel rushed," Shaw said. "Patients tell me if they have to come to an infusion clinic, they enjoy the experience and are thankful to come to APD."