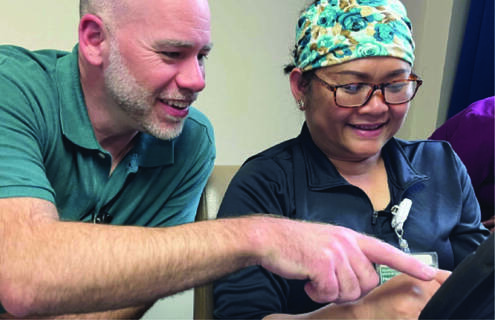 APD's Environmental Services (EVS) team has begun using Rover, a mobile app that communicates with systems already in use throughout Dartmouth Health, to respond to requests to clean patient rooms and complete the work more quickly and efficiently.
EVS staff carry iPhones provided by APD, installed with the Rover app. After patients from departments like Emergency, Inpatient, Same Day Surgery, or Short Stay are discharged, Rover automatically generates real-time requests for areas or rooms in need of service. This frees staff from having to place or respond to pages.
"Before, we would have to go to patients rooms to see which ones needed cleaning. Or we'd respond to a page," said Environmental Services Supervisor Nadesha Bowen Duran. "The app makes this much easier for us."
Shawn Richardson, Director of Food and Nutrition Services and Environmental Services, is excited about the new app. "Before, it was challenging for my staff to begin a new task and then be paged to clean a room right away. If it was an emergency, they'd have to stop what they were doing and respond to the page. This way, they can often complete a task before moving on to the next."
Two additional benefits: Rover's objective, real-time data indicates when additional staff are needed to keep up with demand for services; and Rover can lead new employees through lists of tasks to help them get up to speed more quickly.
The end result: rooms are readied for new patients more quickly with fewer work interruptions, leading to a more productive, satisfying environment for staff.
Rover can also be used for secure chat, bed planning, and patient transportation. Staff completed training on the new tool in May.