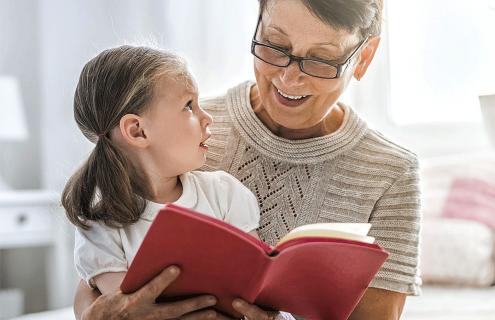 Pediatric providers at the APD Multi-Specialty Clinic have gone through the necessary training to become a Reach Out and Read® site.
Through this program, patient families with a child between the ages of six months to five years old, receive an age-appropriate book during their well-child visit. Parents also learn ways to promote childhood literacy and nurture their child's love of reading. This is part of a national organization with over 6,400 program sites that reaches over 4.8 million children across the United States.
"I'm thrilled that we are a Reach Out and Read site," said pediatrician Laura Greer, MD, who is also coordinating the program at APD. "We agree with their belief that children's books and reading together can build better brains, better family relationships, and happier, healthier children. This important program helps to establish reading as a part of a child's daily routine at an early age. So far, our patients have enjoyed getting a book they can take home, and the books often help kids become more comfortable during their office visit," she added.
"Investing in this program aligns with our mission to improve the health and wellbeing of our community," said Liz Swanton, of community relations at APD. "Our community health department is pleased to support this important program," she added.
APD expects to distribute over 400 books in the first year.
Reach Out and Read is a nonprofit that gives young children a foundation for success by incorporating books into pediatric care and encouraging families to read together.
APD's Primary Care Providers went through a standard training to learn ways to incorporate the importance of reading into their well-child check and ways to teach parents how to use books to improve language skills.
Elements of the Reach Out and Read model
The Reach Out and Read model of literacy promotion and family engagement consists of three key elements.
Training for primary care providers
Primary care providers are trained to deliver anticipatory literacy guidance to parents and caregivers of children from infancy through 5 years of age during each well-child visit. This age-appropriate guidance centers on the importance of elements such as: frequent and early exposure to language, looking at board books and naming pictures with infants, rhyme and repetition for gaining phonemic awareness during toddlerhood, and reading interactively (such as asking open-ended questions) when reading with preschoolers. Providers also use this opportunity to model reading aloud and introduce it as another way to support positive interactions between caregiver and child.
New books given to patients
During well-child visits for children ages 6 months through 5 years, the provider starts the visit by giving the child a new, developmentally-appropriate book to take home, building a child's collection of 8-10 new books before kindergarten.
Creating literacy-rich environments
Reach Out and Read sites also create literacy-rich environments that may include gently-used books for waiting room use or for siblings to take home. In some waiting rooms, Reach Out and Read volunteers model for parents the pleasures and techniques of reading aloud with very young children.
About Alice Peck Day Memorial Hospital (APD)
Known for highly personalized and high-quality care, APD is the community hospital of the Upper Valley of Vermont and New Hampshire. Founded in 1932 and a member of Dartmouth Health since 2016, APD's areas of clinical excellence include surgical services, primary care, geriatric care, sleep health, orthopaedics, and emergency services. The APD campus is also home to a senior living community with assisted and independent living facilities. Follow us on Facebook, Instagram, LinkedIn, Twitter, and YouTube.