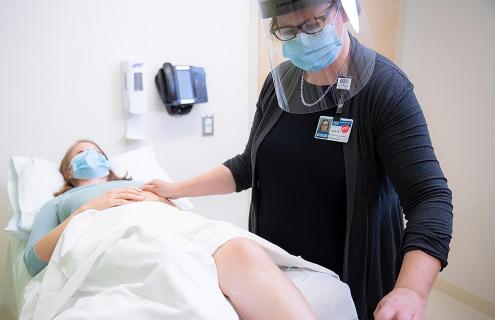 We have expanded our integrative medicine services and are pleased to welcome Cindy Reuter, ND, MSOM, LAc, MPH, as Medical Director of Integrative Medicine. She is a naturopathic doctor, licensed acupuncturist, registered dietitian, and integrative medicine provider.
Integrative medicine also includes licensed massage therapists Nancy Rizner, LMT and Matthew Harrington, LMT. These providers complement Nina McCampbell, MD — APD's family and integrative medicine practitioner — who has been providing primary care at APD since 2010.
Reuter, Rizner, and Harrington started welcoming patients in the Homestead Building at APD earlier this year.
"APD is the ideal place to offer these services and I'm thrilled to be part of this special non-profit community hospital," Reuter said. "APD's focus on improving the health and wellbeing of the community aligns perfectly with the wellness focus of integrative health. It's a logical fit for me and for our service area," she added.
"Integrative medicine is a wonderful complementary option for our patients," said Brian Lombardo, MD, Medical Director of Primary Care at APD. "I'm pleased that Cindy has joined us. Her expansion of our integrative medicine services and employee wellness programs will be a valuable benefit to patients and employees," he added.
Dr. Reuter earned her master of science in oriental medicine and doctor of naturopathic medicine at the National University of Natural Medicine in Portland, Oregon. She earned her bachelor of science in nutrition and clinical dietetics at the UC Berkeley and her master of public health at the Dartmouth Institute for Health Policy and Clinical Practice.
Integrative Medicine (IM) at APD is wellness and healing-focused care that takes account of the whole person, including all aspects of a patient's lifestyle. It emphasizes the therapeutic relationship between the provider and the patient, it is informed by evidence, and it makes use of all appropriate therapies.
Integrative Medicine services include:
Naturopathic consultation
Acupuncture
Cupping
Massage
Nutrition therapies
Contacts and locations
IM - Homestead with Cindy Reuter, ND, MSOM, Lac, MPH
Telephone: (603) 442-5660
Homestead Building at Alice Peck Day Memorial Hospital
127 Mascoma Street, 3rd Floor
Lebanon, NH 03766
IM - Multi-Specialty Clinic with Nina McCampbell, MD
Telephone (603) 448-3122
Multi-Specialty Clinic, Level 2
10 Alice Peck Day Drive
Lebanon, NH 03766