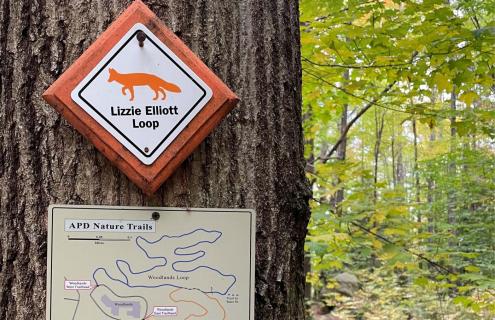 Walking in nature helps the mind and the body. Studies show it can improve your sleep, increase your production of vitamin D, lower levels of cortisol (the stress hormone), and help you lose weight.
It's why there are three nature trails right on APD's campus and always available to patients, staff members, visitors, and the local community.
A long road
The trail system was professionally designed by Morton Trails based in Thetford, Vermont. John Morton, the designer of more than 250 trail projects across the United States and abroad, shares the history — and the vision — of the trail project.
"In late 1996, Bob Mesropian, then-president of Alice Peck Day, contacted me about creating a recreational trail on the property surrounding the hospital," Morton said. "His first objective was to provide an easily accessible, convenient opportunity for hospital staff members and patients (who were able) to get out into the woods on their lunch breaks or after work to relieve stress, get some exercise, and enjoy nature."
Morton was exploring the topography and boundaries of the property when APD announced a new building: Harvest Hill. The trail project was put on hold.
Almost a decade later, Ron Andrews, then-administrator of Harvest Hill, reenergized the trail project. "I reconfigured the original trail configuration, reestablished the flag line, and marked the trees for removal with forestry paint," Morton said. When plans for The Woodlands, an independent living community, began to take shape, Morton again revised the trail configuration. Thanks to the dedication of all involved, the nature trails project was completed in 2010.
"These trails are, in effect, a gift to APD employees and the larger community from Bob Mesropian and Ron Andrews," Morton said. "They had the foresight and persistence to make the vision a reality."
Open to all
There are three well-marked loops: the Lizzie Elliot Loop (0.8 miles), the Harvest Hill Loop (0.5 miles), and the Woodlands Loop (1.2 miles). You could select one trail for a short walk or combine trails for a longer excursion. The trail is well marked with images selected by the residents of Harvest Hill and maps in kiosks are available at the starting points.
Depending on the season, you'll see wildflowers, ferns, rock formations, exposed bedrock, a wetlands, and perhaps some wildlife. Be sure to keep your eyes on the packed-earth trail, too, watching for roots, rocks, pinecones, and fallen branches.
Although the trails are privately owned by APD, they are free and open to the public for four-season non-motorized use. Lebanon Recreation, Arts & Parks grooms the trails in the winter for cross country skiing and snowshoeing. Pets on a leash are allowed.
"The Woodlands residents, especially those with dogs, use and love the trails. We have several dogs at The Woodlands," said Peggy Cooper, director of marketing and sales at The Woodlands and Harvest Hill.
With gentle elevations and gradual declines, the trails are suitable for any skill level.
"These trails is provide convenient, safe, year-round, outdoor recreational opportunities for not only residents of Harvest Hill and The Woodlands, but for the staff of APD and adjacent neighborhoods as well," Morton said. "The terrain is interesting with climbs and descents as well as boulders and rock outcroppings. It is not a boring trail, and it is rare to have such a wooded trail in the center of a pretty dense residential district."