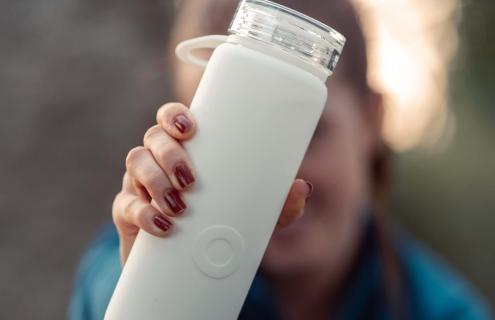 The holiday season is a time for reflection and spending time with loved ones. But, for many, it is also a time of over indulgence — and a window of opportunity for unhealthy habits rear their ugly heads.
With the cold temperatures and snowy weather, we find ourselves spending more time indoors. Then there's the addition of holiday-related stress while we try to plan family gatherings and join community festivities. That's why it is so important to continue to be mindful of our physical and mental health. 
Worried about the holidays hijacking your health? Karry Smardon, social worker and recovery coach at Alice Peck Day Memorial Hospital, offers five tips for maintaining your health during the holidays.
1. Maintain a Healthy Diet
It's easy to fall into unhealthy eating habits this season. Try healthy substitutions for ingredients. For example, use cooking spray instead of butter or margarine to stop your baked goods from sticking, or use reduced-fat or fat-free milk instead of whole milk in your eggnog recipe.
Also, don't forget to eat a balanced diet. It's okay to sometimes treat yourself to gingerbread cookies or pumpkin pie, but remember to incorporate a good number of fruits, vegetables, and whole grains into your diet.
2. Limit Alcohol Consumption
It comes as no surprise that alcohol consumption increases for some during the holiday season. It's also the time of year when more people are at risk for alcohol-related deaths and injuries.
To curb your alcohol consumption, set a limit on the number of drinks you plan on consuming during the holiday. Try to keep a physical tally of how many drinks you've had so you don't rely on memory.
3. Keep Your Skin Healthy
The cold weather and low humidity during the winter can cause many problems for your skin. Staying hydrated, washing with warm water (not hot), and staying away from strong harsh soaps can also help with dry skin.
4. Reduce Stress
The holiday season is a joyous time for many — but for others it can be an added stressor. Financial strain, family conflict, overextension, and the ongoing COVID-19 pandemic may make life seem overwhelming and hard to manage. 
One way to battle tension and anxiety is to make a list of your stressors. Once you make a list, you can come up with one or two possible solutions. You can also reach out to your loved ones, make a list of things you're thankful for, volunteer to serve others to shift your perspective, and understand it is okay to say "no."
5. Get Enough Vitamin D
During winter we are less likely to get the vitamin D we need to maintain strong and healthy bones.
One of the best ways to get vitamin D during the winter is your diet. Foods rich in vitamin D include fatty fish (tuna and salmon), yogurt, and milk. Another way to get vitamin D is to spend 15 to 20 minutes in the sun three times a week. A nice walk in the sun not only provides your body with vitamin D, but it can also reduce stress and burn some calories.