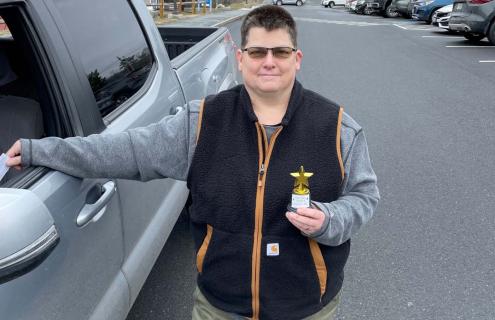 Karen Davis struggled with knee pain for almost four years.
"I tried other alternatives to alleviate the pain and delay having surgery," the Windsor, Vermont resident said. "Eventually, it came down to quality of life: I had none. The pain was interfering with my work and my emotional state — the surgery had to be done."
Davis made an appointment with Dr. John Houde at APD Orthopaedics. Her first knee replacement was in November 2022 and the second in March 2023.
"My experience was the same for both surgeries: every single person I came in contact with was so welcoming, warm, friendly, and helpful from check-in to the surgery crew to the nurses to the kitchen crew, the housekeeping staff and everyone in between," Davis said. "There is just a vibe about APD. I feel so comfortable and relaxed when I walk through the doors."
She provides an example of the kindness APD is known for. "There was a nurse that distracted me with a picture on her phone of her dog while the anesthesiologist was putting the needle in my back. She knew I had a high level of anxiety to have that done," Davis said. "It worked and I appreciated her so much for doing that."
Davis is in recovery for her second knee procedure. "I am sure once I am all healed I will be 100% in back to normal life again," she said.
Davis was born at APD 54 years ago, and tells everyone about APD and the Multi-Specialty Clinic.
"APD is a fantastic place to get the excellent care you are looking for! Professional, kind, caring staff — every single person there — from start to finish. If anyone needs medical care, APD is definitely the place to be," Davis said.