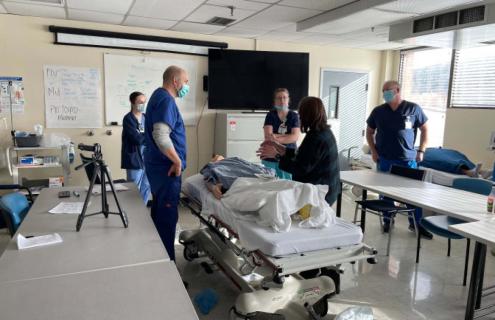 Did you know every APD employee — from front line care to back-office support — is part of the care team? A monthly class, hosted by Kristie Foster, BSN, RN, Emergency Department (ED) clinical manager/educator, and Justin Harris, BSN, RN, ED clinical manager/educator, is teaching employees how to respond in an emergency situation.
"This class is a low-key educational opportunity allowing staff to think and talk through different emergency scenarios, practice with hands-on opportunities, and feel more confident responding to emergency situations," Foster said.
The first class focused on cardiac arrest scenarios. Response starts with the ABC rules of first aid — airway, breathing, and circulation/compression — but the codes when an employee calls for help are different. Do they have a pulse? Code white. No pulse? Code blue.
Depending on the age of the person, the first person on the scene may call code white, child or code blue, adult. "It's important to specify adult or child," said Foster. "You want to make sure the responding team brings the right equipment."
The class asks questions, like "Is a bed too soft for CPR?" (Start it on the bed, and quickly move them to a harder surface) and "How long should one person do compressions?"
"Truly, two minutes is all you can do for compressions. Be prepared to switch out," Harris said. "If you do nothing else, quality compressions will save a life."
Harris and Foster plan to host monthly training touching on different emergency topics: heart attack, stroke, team roles in a code blue situation, and mock codes. It is essential information for any APD employee to have and patients will be comforted to know even behind-the-scenes employees know the procedures and protocols for an emergency.
"I work in an office, but I walk the hospital campus daily," said Laura Jean Whitcomb, marketing and communications manager at APD. "It's empowering to know the correct procedures so I'm not just a bystander. I can help save a life."