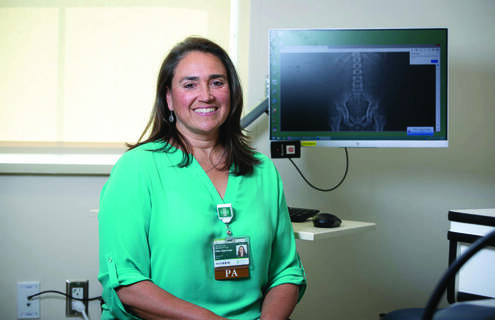 As part of your annual wellness check in, your primary care provider may provide a pelvic exam. For most women, that visit may be sufficient. But some women may need to see a gynecologist, a provider who specializes in women's sexual and reproductive health.
Gynecologists provide prevention, diagnosis, and treatment for women from childbearing age to menopause and beyond. You can see a gynecologist for your routine preventative care. You can also see a gynecologist when you have a health concern that may require specialist expertise. Here are six reasons why you should see a gynecologist.
Routine care. Regular visits with your gynecologist will help maintain your reproductive health. According to the American College of Obstetricians and Gynecologists (ACOG), visits should start between the ages of 13 and 15. There is typically a general physical and there may also be one or more of the following: an external genital exam, a pelvic exam (a check of the vagina, uterus, ovaries, fallopian tubes and cervix), a clinical breast exam, and/or a pap test, and a routine cervical cancer screening. Routine care can also include screening for other health conditions such as diabetes or heart disease.
"Breast cancer risk assessment and screening is another reason for women to come to the gynecologist though many in primary care cover this, too," said Erika Argersinger, PA-C, Gynecology at APD.
Cervical cancer screenings. The American College of Obstetricians and Gynecologists (ACOG) recommends starting cervical cancer screenings at age 21. "Some primary care providers will do your Pap test, but some women may prefer to see a gynecologist for this," Argersinger said.
Screenings can include a Pap test, which looks for abnormal cells of the cervix; a test for human papillomavirus (HPV), a virus that can cause cervical cancer; or both. Depending on which test(s) you get, it may be done every three or five years. Guidelines recommend screenings continue until age 65. If there is a history of DES (a medication used between 1938-1971 to prevent pregnancy complications) exposure in utero, sometimes screenings will continue past age 65. "Women exposed to DES in the womb may be at increased risk of vaginal or cervical cancer," Argersinger said.
Birth control discussions. If you are sexually active, your gynecologist can recommend birth control options and provide family planning advice.
STI screenings. The Centers for Disease Control and Prevention recommends regular Sexually Transmitted Infection (STI) screenings or testing if you're sexually active. Your gynecologist can provide routine screenings for STIs, such as chlamydia, gonorrhea, or syphilis, based on your age and sexual history.
Menopause symptoms. Menopause marks the end of the reproductive years, typically taking place around age 51. "The process is gradual and may last for years. We can help you manage your symptoms, which may include hot flashes, night sweats, or vaginal dryness," Argersinger said.
Referrals to specialists. You may have irregular periods, heavy bleeding, or periods with extreme pain, which are problems a gynecologist may be able to help with. You may have a urinary tract infection requiring an urologist or need to see an urogynecologist for a pelvic organ prolapse. You may be pregnant and need to see an obstetrician (OB), a healthcare provider that specializes in women's reproductive health, pregnancy, and childbirth.
"We see women of all ages, but sometimes the in-between age is seeing an OB," Argersinger says. "Then we'll see patients coming back to their gynecologist in their 50s and older."